London is one of the world's most fascinating cities. For hundreds of years people have travelled from all corners of the globe to live here, and this is a city that's been moulded over centuries into a place like no other.
London is a city with a little bit of everything, from leafy parks nestled beside busy thoroughfares to bustling street markets, hidden gems of haute cuisine and cutting-edge high culture. This city teems with life, and it's always changing - walk down any street in London and you'll see continuous remodelling and reworking of the city's identity, each and every day of the year.
Whether you're new to the city and want to put down roots, or returning from a spell living overseas, you'll need to orient yourself within London's constantly shifting ecosystem.
London changes perceptibly from one day to the next, and there's always something new to discover just around the corner. If you want to get the most out of the capital you'll need to have an idea of where to start, and what to look for, which is exactly what this guide will provide.
It's no use just jumping in and hoping to find what you're looking for
Not only do we cover the best places to invest in London real estate, but we also discuss the day-to-day considerations of living in London; where to find the best schools, where the biggest and best private and public hospitals are, and even what to expect from your council tax bill. This guide shows off some of London's inimitable character, too, by picking out the trendiest boroughs, the finest restaurants and the best places to find a bargain. Along the way we'll take in some of the fine detail of London life, such as the excellent antique markets located next to Little Venice and the world-class Whitechapel Art Gallery, tucked away in an up-and-coming part of East London.
So dive in; we can't possibly show you everything this city has to offer, but we'll show you the paths to take in order to find what you want from this singular city.
Best Areas to Invest in London
London is, in many ways, a completely different world to the rest of the UK. The sheer concentration of people in London gives it a unique character, and the scale of the city makes it almost a country in its own right - you can travel for miles and miles in any direction, and you'll never set foot outside of a London postcode. Because London is the hub of so much of the UK's economy, not to mention it's culture, the city is forever facing a huge demand for more houses, more homes and more property. This demand makes London house prices eternally buoyant, and pushes the value of some property to stratospheric proportions; our "Most Expensive Streets" section highlights some of the places where even the cheapest home goes for a cool £10 million.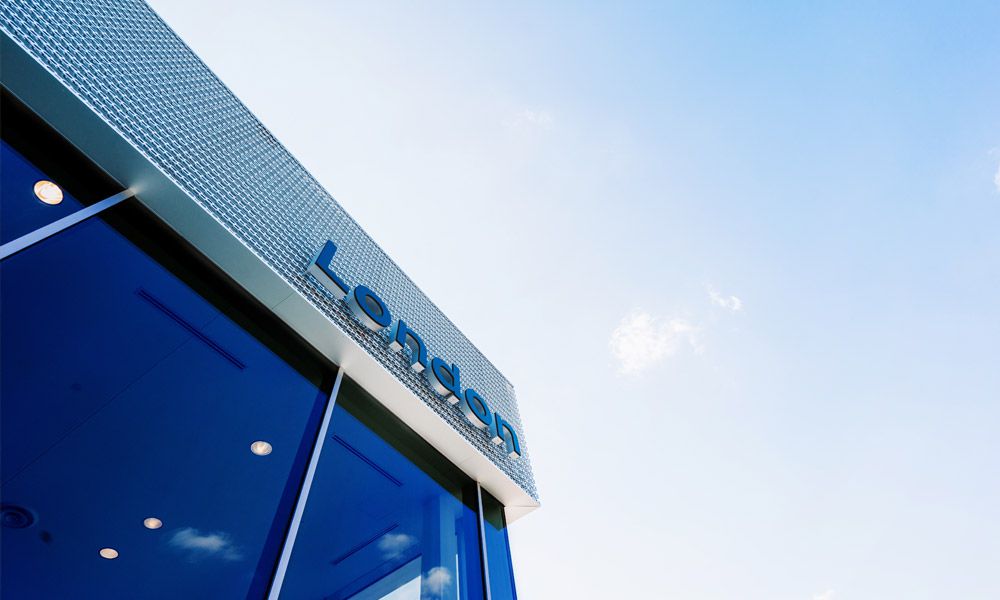 If you're looking to buy property in London, chances are you'll want to grab yourself a piece of the pie. Which means picking a property that's going to increase substantially in value over the next few years. While many people see investing in real estate as a no-brainer, it is in fact a delicate game which requires careful analysis. It can be surprising how much of an effect inflation and interest rates have on your bottom line, so it's not enough to simply pick a likely property and hope. Selecting a property in an area that's going to generate enough of a return is vital, and while this guide will highlight some of the best areas to invest in London it's essential to seek professional advice before committing to a purchase.
What makes a good investment property?
There are many different types of investment, and whether one is right for you or not depends on the type of investor you are. For example, Buy-to-Let landlords might prioritise an area near a university, in order to gather a yearly crop of student tenants - they might not be so worried about property values increasing, because they're intending to profit through lettings. Alternatively, your goal may be to achieve a capital gain by owning the property for a few years then selling it on; this classic move up the property ladder requires a keen eye for a bargain, and rewards buyers who are willing to take on refurbishment opportunities.
One investment area which might surprise buyers is the super top-end of London's property market. The multi-million pound streets in Kensington and Belgravia where houses sell for the price of Caribbean islands are not as sought-after as they were a few years ago, because the wealthy overseas investors who made up the market have grown less keen, now that the UK's future is so uncertain. A central London postcode used to be a safer bet than any bank and an easy way to generate a profit from several million pounds - the property was always worth more every year, so rich tycoons and oil barons would put their money into Chelsea property rather than a bank. Now, though, no-one's quite sure where the UK will end up in the next few years, so buyers are beginning to drop off from this ultra high-end market, meaning that while London property prices have continued to boom over the past few years, these premium postcodes have not seen anything like the same growth.
Top London Investment Areas
These are just a few of the best places where buyers can find cheap deals in up-and-coming areas; this list is by no means exhaustive, and there are plenty of places across the city where a relatively small investment now could pay big dividends later. As always, it's important to thoroughly research an area before making any financial commitments, and buyers should always liaise with a reliable local estate agent before deciding that an area is right for their needs.
Belvedere, DA17, South-East London
Just south-east from the city centre, Belvedere rests on the cusp of the M25 ring road. Up until recently, this borough was a near-backwater, less a part of London than an outpost of nearby Dartford, but this has all changed with the addition of the new Crossrail links into the city. Now, residents can hop on the Tube and be in the City in just 35 minutes, rather than having to catch a bus and a train for a total of an hour and 15 minutes. This means that Belvedere has seen a surge of interest from commuters who can't wait to slash their journey times, yet can't afford to buy somewhere in well-heeled Woolwich, Greenwich or Fulham.
Belvedere offers a unique proposition in that it's a relatively spacious community in a suburban setting, yet placed within striking distance of the hustle and bustle of the UK capital. By comparison, it takes about as long to travel to the centre from West Ham as it does from Belvedere, even though West Ham is half the distance away - this little suburb really is very well connected.
In terms of investment opportunities most of the properties being sold in Belvedere are flats, which go for about £225,000, according to Rightmove. Prices in Belvedere have increased by 15% in the last 12 months, and by 41% over the last 3 years - there are few other investments which can promise such an astonishing return, which shows how quickly Belvedere is growing.
Southall, UB1, West London
For our next investment area we're travelling to the far side of London, right out onto the western edge of the M25. Southall is a far-flung outpost of London, and still feels more like a country town than a part of the UK's largest city - the nearby amenities include the West London Shooting School and various golf clubs, and the rolling countryside sitting just a few miles away speaks more to country living than to the thriving metropolis of London.
Crossrail isn't the only reason to buy property in Southall, though - this area has much to offer on its own merits. However, once it opens up to commuters property prices are likely to skyrocket, so it's best to get in on the ground floor while property is still relatively cheap. Flats in Southall sell for around £250,000, with terraced houses costing an average of £375,000 and semi-detached ones £460,000. Southall's seen a 12% increase in property value over the last year, and 34% in the past 3; this trend looks set to continue, especially when Crossrail becomes fully functional over the next two years. If you're thinking of investing in London real estate, it's well worth adding Southall to your list.
Goodmayes, IG3, East London
We're moving much closer in to the centre of London with this next area, situated just north of investment hotspots Barking and Dagenham. Goodmayes has great transport links with the centre, again allowing commuters to be in the heart of London in just half an hour. This makes Goodmayes a fantastic investment opportunity as more and more buyers shift further out from the town centre; recent years have seen significant growth in Zones 3-6 as buyers tire of paying enormous sums for Zone 1 & 2 properties.
While a home in Clapham, Ealing or Balham can easily go for half a million pounds, property in Goodmayes is much more affordable, with average house prices sitting at around the £350,000 mark. Flats tend to come in at an average of £250,000, which represents a fantastic bargain with links into the City as strong as this. Bear in mind that the cheapest and most affordable properties are clustered in the south of this borough, around Becontree - whilst this requires a slightly longer commute, the potential for investment is very high here, as the area has seen growth of 13% in the last year and 44% in the last three.
Newham, E16, East London
Investment opportunities are rife in East London, which has traditionally been the Cinderella of the London real estate market. While many have treated these boroughs as chronically uncool and unfashionable, they're now providing a real alternative to the mind-boggling expense of nearby Tower Hamlets and Poplar. Situated right next door to Canary Wharf, homes in Newham have become exceedingly popular with the top London traders and financial experts, and with London City Airport on the doorstep there are also unbeatably convenient links to the wider world.
Newham property has been targeted for investment already, and homes in the area are being snapped up left and right. This has driven up property prices already, and the area's seen an increase of 12% since last year, and 42% in the past 3 years - homes in Newham are now more expensive than in surrounding Dagenham & Barking, but are still much cheaper than anywhere closer to the City, such as Tower Hamlets. A flat in Newham goes for around £360,000, which is a lot more than many of our other investment opportunities, but the area shows a lot of potential for growth - if you can find the right property, and negotiate the right deal, there's no reason why you can't make a significant profit on a Newham property.
Making the right investment
Beyond finding the right area and property to invest in, buyers must make sure that they're financing their purchase in such a way as to generate the best return on their investment. While it may be tempting to go all-out on a high-end property, it's often better to build up as much equity as possible, minimising the impact that mortgage interest rates have on your investment.
A key reason behind this is the fact that a larger deposit will almost always secure you a cheaper interest rate. While you may be able to obtain a 5% mortgage for a £500,000 property, you'll certainly pay a high rate of interest on it, which eats into your profit margins. Many mortgage providers charge upwards of 4% on their 95% LTV mortgages, which means that you'll be losing a big chunk of your investment each and every year. Factor a nominal 2% inflation in as well and your house loses 6% value every year, which puts a big dent in your house's value. The £25,000 you spent to get this high-end property might be better spent on a £250,000 property, where the 10% deposit will help to keep costs down.
Another thing to bear in mind with these investments is that properties in cheaper areas often increase in value faster than those in more expensive ones, so it's better to pick the most expensive house in a cheap area than the cheapest house in an expensive area. You're much more likely to see a substantial increase in your investment this way, as high-value areas are growing fairly slowly.
The art of investing in London property is a balancing act that requires careful consideration. While the size of your deposit plays a large part in making your investment successful, it's also important to purchase a property which will provide you with the greatest return on investment. You might make a 10% profit when you sell your £200,000 house, but someone making just 5% on a £500,000 house is making more money in the long run - it's all about finding the right property for your circumstances. This is far from straightforward, so while we've given you some handy tips on where to start looking your next port of call should be an experienced real estate agent, who can guide you through your best London property investment options.
Best Areas for Expats in London
If you're looking to buy a property in London, you'll need to know where to begin looking. While every corner of London has some great properties, the sheer size of the city means that each borough has its own distinct character; Bermondsey and Brixton couldn't be more different, for instance, even though they're only a few kilometres apart. Knowing where to find London property is just as important as knowing what you're looking for, and our handy guide to London real estate for expats is designed to give you a head-start on your search.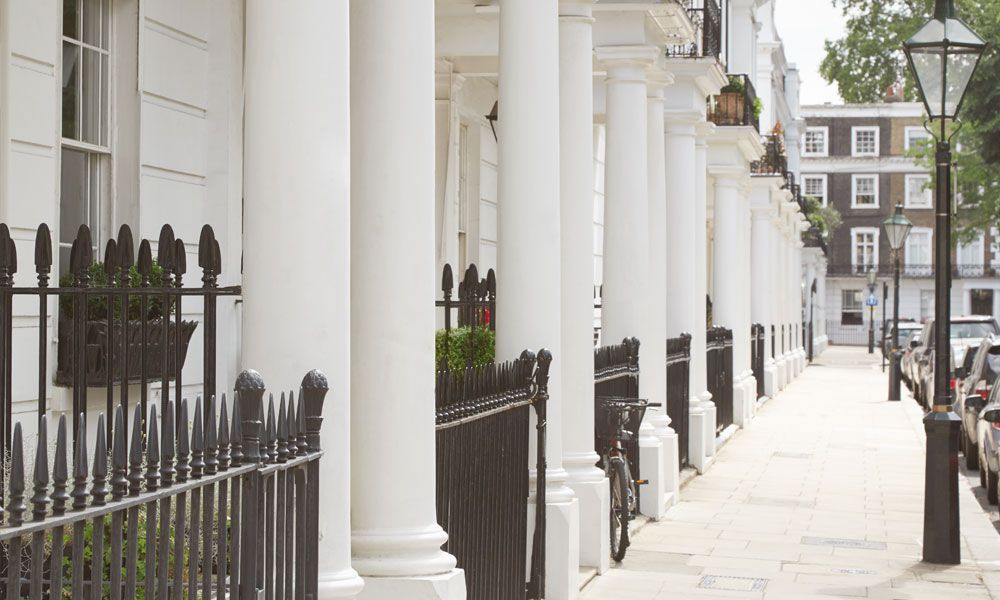 Before we begin talking about the specific neighbourhoods of London we'll go into a little more detail about what expats should think about before making a real estate purchase, and what aspects of a new home should be at the top of your wish list. Of course, not every expat will be after the same sort of property, so it's important to identify what your own needs are before you start looking.
London Zones
London relies on the Tube network to a surprising degree, and the importance of this transport link has an enormous impact on the way Londoners live their lives. Because for many residents the Tube is their primary method of transport, proximity to a station is often a deciding factor between one property and the next, and homes which boast a Tube stop just a short walk away usually command a high price. The new Crossrail development which will eventually connect Heathrow in the west with Abbey Wood in the east has had a significant impact on house prices in every district it touches, and homes in these areas have seen a substantial boost in value.
Because of the importance of the Tube to London's daily life, properties are often described according to where they sit on the Tube map; Zone 1 comprises of the inner boroughs like Knightsbridge, King's Cross and Marylebone, while Zone 2 consists of slightly further out Islington, Fulham and Camden Town. Property in Zones 1 & 2 tends to be the most expensive, with house prices slowly decreasing from Zone 3 to Zone 6 (and further afield). An area's zone might not correspond directly to its distance from London; Richmond and Ruislip are both within Zone 5, though Ruislip is a good 10-15km further away.
Over the years property close to the city centre has become more and more expensive. While Zone 1 & 2 have always been fairly sought-after addresses, more far-flung boroughs like Bexley and Barking have been more affordable. However, with rising house prices and improving transport links, it's become ever more viable for commuters to live further afield, and house prices are rising in Zone 3-6 as residents look at properties well outside the city centre. Areas which once meant a long slog of a commute such as Dagenham are now becoming ever more attractive, so expats have many more areas to take into consideration now than they would have 15 years ago.
The key takeaway from all this is that expats won't need to buy a home close to the centre if they're planning to commute; there are many London boroughs which have excellent commuter links and haven't yet had their property prices inflated. An affordable home with a short commute is still attainable in London, so let's get looking.
West London
West London is characterised by posh inner-city addresses which give way to ever greener and more spacious neighbourhoods. Travelling expats will value the combination of strong links into both the City and Heathrow, and the cheaper properties available on the western edge of London.
Kensington & Fulham - Zone 1/2
These two boroughs are perched right on the western edge of the city centre, and command correspondingly high prices - homes in Kensington are hard to find for less than a million pounds, and while Fulham is a fair bit cheaper you're still looking at a hefty price tag for its prime location. With some of the top London landmarks like the V&A, Hyde Park and the Saatchi Gallery practically on your doorstep these two boroughs make a brilliant home in London, but you should expect to pay a top price for them.
Chiswick & Ealing - Zone 2/3
Though slightly further from the centre, these two boroughs are still handily placed for access to the City. House prices in these areas are less inflated than the closer-in districts, and while it's still easy enough to get into the city there is less of a premium for these postcodes. Chiswick is the more expensive of the two neighbourhoods, and has been for a while - expect to pay £600,000 for a flat here, and twice that for a semi-detached house. Ealing isn't far behind, though, and property values have ballooned by 20% in the past five years; a semi-detached property here will cost you around £1 million.
Richmond, Southall and Twickenham - Zone 4
These three districts sit closer to Heathrow and the M25 than to London's centre, but still boast impressive links into the city. There are several bonuses for living this far out from the city centre; space is much easier to come by, and there's much less competition for property. Even so, the leafy green spaces of Richmond come with a hefty price tag, and semi-detached homes here cost an average of £1.3 million. Southall and Twickenham are both much more affordable, though property in Southall has increased dramatically in the past 3 years thanks to the impending Crossrail links which will open in 2018.
Access to the countryside is a big plus for residents of these boroughs, who can hop on the M3 or M4 to the Colne Valley River Park just a short drive away. Heathrow is also within easy reach, making a home on the western edge of London an excellent choice for expats with international links.
South London
South London has for a long time been the unwanted stepsister of the London boroughs, long passed over as a place to make a home. However, urban regeneration has made the closer-in neighbourhoods highly desirable as trendy upmarket hipster destinations, which has in turn created a demand in the more remote southern districts. Transport links to the south will eventually come in the form of Crossrail 2, but this is scheduled for 2020 onwards.
Brixton, Clapham and Peckham - Zone 2
These 3 boroughs together make up a large part of London's cultural scene, and contain many of the city's edgiest bars, clubs and venues. 30 years ago you couldn't give away property in Brixton, but regeneration has pushed property prices up considerably. However, property in Brixton is still relatively affordable when you consider how close it is to the city centre; a flat here goes for around £450,000, while a similar property in Fulham, Poplar or Camden will cost you quite a bit more. Peckham also offers relatively cheap property, while Clapham homes cost significantly more - a flat here will cost around £550,000.
Croydon - Zone 5
Croydon is, essentially, a town in its own right. Because of its close proximity to London it's slowly becoming a destination for London commuters who prize the cheap (by London standards) property that can be had here. Flats go for an average of around £265,000, and semi-detached homes around £440,000, much lower than in many other comparable boroughs. Prices have shot up over the past 3 years, reflecting a growing influx of Londoners to this southern town.
The average statistics mask the fact that Croydon has very different areas. Some neighbourhoods in the town are much more expensive than others with Sanderstead, Purley and Croham Hurst providing lovely Victorian properties. Other parts of Croydon offer converted ex-council houses or estates which are much cheaper, but far less sought after.
Kingston-upon-Thames and Epsom - Outer London
These two areas are, again, towns in their own right rather than parts of London. They retain a sense of their own identity, with Kingston boasting a long heritage as the seat of ancient English kings. Homes in Kingston are fairly cheap by London standards, starting at £400,000 on average for a flat and around £650,000 for a semi-detached home. Property in Epsom is about 25% cheaper, and though Epsom is a small town it does boast decent rail links into London - while Epsom is several miles further out than Kingston, trains take about half an hour from either town into the city itself.
Kingston-upon-Thames provides residents with a beautiful old-fashioned setting in which to live, while Epsom's more built-up centre is offset by the cheaper properties that can be had. Both allow commuters to make a quick journey into London or up to Heathrow, though driving into the city takes much longer than catching a train.
East London
The site of much modern regeneration, some parts of East London have become top destinations for expats thanks to the cheap property on offer and the excellent transport links into the city. London City Airport provides a range of air travel services for East London residents, but a wider range of destinations are served by Luton, Stansted and Heathrow, which require a longer journey.
West Ham & Stratford - Zone 2/3
Stratford has been the site of major urban investment in the past decade, and now boasts London's second Westfield shopping centre. Property in Stratford can be purchased for a surprisingly low price, with flats costing around £200,000 and semi-detached homes about £310,000 - this contrasts favourably with property to the west and north, where homes are very pricey indeed. However, while both West Ham and Stratford are becoming more sought-after year by year, they still lack the cool culture and identity of trendy Brixton or the suburban elegance of Hendon.
Barking, Dagenham and Ilford - Zone 4/5
Up-and-coming areas like these three have seen great growth in the past few years, driven on especially by the new Crossrail transport links. As highlighted elsewhere in our guide, house prices in these boroughs have jumped considerably, with houses in Barking costing on average a whopping 43% more than they did just 3 years ago. However, homes here are still fairly affordable, with a semi-detached home costing between £400,000 and £450,000.
While Barking, Dagenham and Ilford have long been considered working-class areas of the city, there is a lot of evidence to suggest that these areas will become the Shoreditches of 2020. Upcoming investment and a growing student population all point to these boroughs becoming more and more valuable in the next few years, as do the recently rocketing house prices.
Dartford - Outer London
While Dartford may seem far-flung from London itself it's surprisingly handy for commuters, with only a half-hour train journey from Ebbsfleet Station to the City of London. As a bonus, this train station also provides links to the continent, allowing expats to easily pop over to France for the weekend.
Dartford is seeing a lot of new housing developments to keep up with demand, and property here is usually available at a fairly reasonable rate - terraced homes go for around £300,000, while flats cost about £200,000. This makes Dartford a reasonable alternative for those who want to bring up a family near London but can't afford to buy a larger house closer in to the city centre. Dartford's excellent rail links also let it compete with much more central districts and make it a great choice for commuting expats.
North London
The exclusive boroughs of North London quickly give way to rolling countryside and breathtaking vistas. Outposts of suburban living such as Enfield, Barnet and Edgeware provide Londoners with more affordable housing on the outskirts of the city, while easy access to Stansted and Luton Airports enables international expats to jet off with relative ease.
Camden Town & Chalk Farm - Zone 2
Camden deserves a special mention as one of the most iconic parts of London, and while it may no longer be the coolest area of the city it's still a major tourist draw for good reason. Nearby Chalk Farm provides excellent access to the inner city while also offering respite from the madness of Camden itself, and is also more affordable - flats here go for around £600,000, while those in Camden cost closer to £800,000. A Camden home will usually set you back around £2 million, while a terraced Chalk Farm property will go for around half of that.
Hendon, Golders Green and Finchley - Zone 3/4
The more suburban setting of these three boroughs lends itself well to expats who want a little more for their money without having to live too far out from the centre of London. The many parks and recreation grounds of these neighbourhoods makes it easy to get out and about, and the area also has a strong identity all its own; large parts of London's Jewish community call Hendon and Golders Green home, and their culture is woven throughout the area.
Of the three, Golders Green is the more upmarket, with semi-detached properties selling for well in excess of a million pounds. Hendon and Finchley homes can be bought for more like £750,000, with flats starting at about £450,000. Neighbouring Hampstead Heath gives families of all sizes somewhere to stretch and exercise, while Allianz Park and Emirates Stadium give sports fans unparalleled access to their favourite teams.
Enfield & Barnet - Zone 5
Both Enfield and Barnet give Londoners intending to raise a young family a quiet, safe environment in which to bring up children. The areas both boast very good primary and secondary schools, and while the journey into London is longer than for many other comparable areas (such as Croydon, Dartford or Epsom), it is still comfortably under an hour at about 45 minutes. In addition, drivers find it much easier to make their way into the city from either Enfield or Barnet, and can usually make the trip in under an hour.
As with the leafier western edge of London, both Barnet and Enfield give residents quick and easy access to the nearby countryside, and it's only a short half-hour drive out to the Lee Valley Park. House prices are also fairly stable, and semi-detached homes in a good area cost an average of around £600,000. Finally, Luton and Stansted airports are well within reach for residents of these areas at about a 40-minute drive, making it much more straightforward for expats with overseas links to pack up and head abroad when necessary.
Expats Living in London
Expats might find the experience of returning to London bewildering, but it's still possible to find a London property at a good price if you know where to look. From Croydon to Richmond, Kensington to Barking, there's something for everyone in each corner of London. If you need somewhere spacious on a budget, that can be found, or if you need inner-city convenience that's possible too. London has it all, and expats can uncover whatever they need with a little digging.
London's Trendiest Neighbourhoods
From Paris to NYC to Rio and Tokyo, every city has its coolest spots, and London is no exception. From the jumbled bohemia of Camden Town to the well-heeled hipsters of Spitalfields, the iconic cool of Notting Hill to the artsy tangle of Shoreditch, many of the UK's most happening places are clustered in the melting pot of London. Knowing where to go and what to expect is the key to getting the most from these unique neighbourhoods, which is why we've created this handy guide to the trendiest spots in London.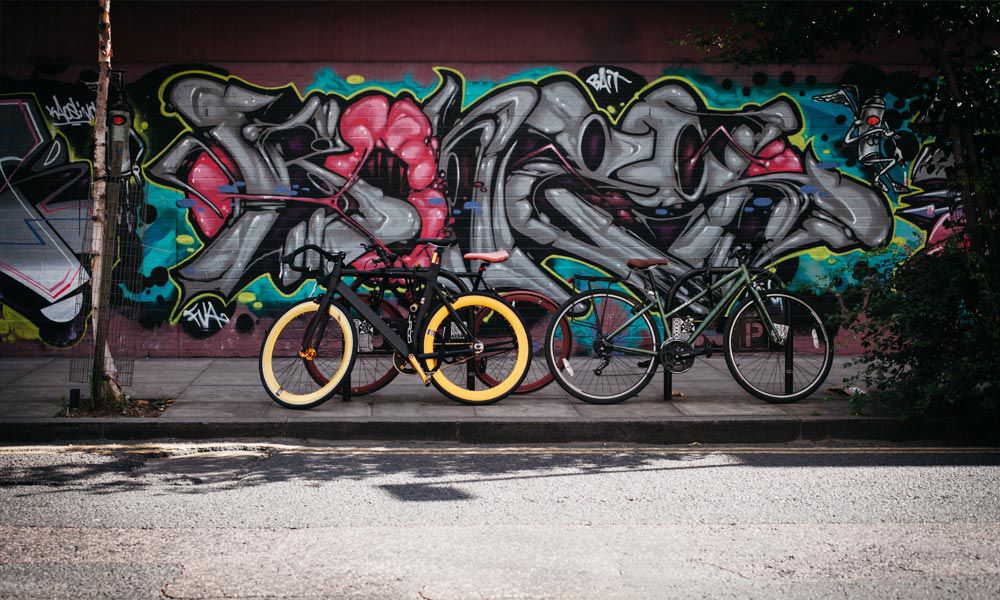 There's nothing more subjective than what constitutes "cool"; what some people think is cutting-edge might be seen by others as outdated, and while some may turn their noses up at shabby backstreet venues to others these are the height of edgy cool. We're going to cover hotspots that run the whole spectrum of what London has to offer, so no matter whether you're after a refined modern art exhibition in a sought-after postcode or a street wise graffiti display, we've got you covered.
Whitechapel & Brick Lane
Wander through the streets of Whitechapel and you'd never dream that just a mile away buzzes the financial heart of the UK - this small borough nestled right in the heart of London is part of Tower Hamlets, yet boasts an incredibly rich and diverse cultural heritage in stark contrast to the sleek efficiency of its next door neighbour. Whitechapel is the home of many British subcultures, and has large Jewish and Bangladeshi populations; the area has been popular with immigrants and the working classes for many years, and was the site of the 1936 "Battle of Cable Street", a significant demonstration which contributed to the suppression of fascism in the UK. Though the area suffered greatly from German V-weapons in World War 2, consequent rebuilding helped rid the area of much of its pre-war notoriety.
The Whitechapel Art Gallery is an almost incongruous sight in this neighbourhood, where there's little conspicuous money on display. This famous world-class gallery hosts some amazing contemporary art exhibitions and has recently been granted extensive funding for expansion and renovation, which was completed in 2009. Visitors should make certain to stop off here for an afternoon and take in some of what makes Whitehall such an interesting, vibrant place.
Brick Lane links to Whitechapel's High Street through Osborn Street, and it's along this road that much of the area's street art and graffiti can be found. Large scale murals adorn nearly every wall down Brick Lane, showing off the intense care and skill which is taken when creating graffiti. This area is the heart of the local Whitechapel Bangladeshi community, and is sometimes known as "Banglatown" for its high proportion of immigrant residents.
Almost every restaurant on the street is owned by a Bangladeshi, which makes this one of the finest places in London to find a curry - Indian cuisine is rarely made better than when it's made by Indians, for Indians. In recent years Brick Lane has seen an increase in exhibition space, and most of London's art and fashion courses put on displays in Brick Lane or Whitechapel. You wouldn't know it to look at it, but this is one of the most unselfconsciously cool places in the city, with roots stretching back hundreds of years.
Those looking for a home in Whitechapel should also take note that Crossrail will be serving the area from 2018, and the faster transport links this provides will make it highly attractive to commuters - almost every area where Crossrail has been introduced has seen a huge increase in house prices.
Whitechapel is a very special sort of neighbourhood, the type of place which it's harder and harder to find; it's lively, cool and culturally diverse, but unconsciously so. There's no posturing or pretension involved, which makes the area immensely attractive to visit, and those who want a taste of real London life would do well to come here.
Camden Town
Any visitors to London in the past 20 years will no doubt have heard of Camden as one of London's coolest neighbourhoods. Whilst the secret's been out for a long time about Camden and it may no longer be the underground spot it once was, it's still a fantastic and unique part of London's rich tapestry, with a character all of its own.
Camden is a huge draw for tourists, and thousands of people pour in every weekend to walk around the famous Camden Lock, to peruse the street vendors selling alternative clothing and to seek out delicious food from one of the many "hole in the wall" restaurants operating in Camden Market. Camden Lock is still an operating canal, too, and the regular narrowboat trips up to London Zoo attract hundreds of passengers on beautiful summer days. Camden itself has a long history as an integral part of London's alternative scene, and it's still incredibly popular with the younger crowd - almost every night of the week there's a gig, a festival or a performance that's not to be missed, and the young alternative crowd treks in from all over London.
Though Camden Town has been very popular for a very long time, it's avoided the gentrified fate of so many culture hotspots. Though there are fewer independent shops and vendors than there used to be, Camden hasn't succumbed to the relentless march of coffee shops and retail outlets; there's still a huge amount of character in the neighbourhood, and loads to discover. Newcomers to London who want to dip their toes in the bubbling waters of Camden but don't want a full soaking should look at property in Kentish Town, just to the north. One of the most underrated spots in the city, this neighbourhood lets residents pop down to Camden when they feel the urge to party, but retire to a comfortable, quiet suburb when they've had enough.
Brixton
Everything comes in waves, and as with so much else in London what was once a deprived backwater has become the cutting edge of cool. As with Bristol in the West Country, Brixton was the site of huge Jamaican and Caribbean immigration throughout the 20th century, and consistent poverty and depredation led to the infamous 1981 riots. After these riots, property in the area was virtually worthless, and could be had for almost nothing. As rising rents pushed people further and further out from the city, though, interest slowly grew in Brixton as somewhere to buy cheap property close to the city centre.
Thanks to the growing influx of city commuters Brixton's commercial fortunes quickly turned around; the once-defunct Brixton market became a hub of thriving independent businesses and local house prices shot up. Brixton's hugely diverse community created a real sense of neighbourhood, and it's still a conspicuous hotspot of Jamaican culture in south London. Visitors to the area should make sure to check out Electric Avenue, the street that inspired the Eddy Grant 1982 hit song of the same name, and to spend some time at Brixton Market. A local speciality is imported Scotch Bonnet chili peppers, which are a vital ingredient in "jerk" cooking - be careful, though, as these are exceptionally hot peppers!
Gentrification is a double-edged sword, though, and while Brixton's commercial fortunes may have turned around the consequent rise in house prices has pushed many of the area's original residents further afield. There are many in Brixton who argue that the area hasn't been gentrified, but has gradually regenerated, and there's no argument that the decrease in violent crime on these streets is a good thing. However, many local residents also see the influx of students and commuters as a marginalisation of their own community. While there is some tension in Brixton, it is still a hugely exciting and individual neighbourhood, and it's a unique part of London culture.
Shoreditch
No mention of London's trendiest boroughs would be complete without a reference to Shoreditch, the hub of 2000s cutting-edge culture. This neighbourhood is located just a short hop north of the city centre, and is home to some of London's most thought-provoking art collectives and a hugely diverse range of independent stores. While Shoreditch has become almost a byword for pretension amongst the city's more cynically-minded residents, this is still an incredibly stimulating and unique part of London.
Retro cool and vintage flair is the name of the game in Shoreditch, and many boutique shops specialise in one-off clothes that can't be found elsewhere. Many of the stores in this part of town will carry unique handmade goods and cultivate an air of homely timelessness that harks back a hundred years or more. Particular favourites amongst visitors are the market stalls of The Yard on Ezra Street, where traditional produce sits side-by-side with handmade furniture, vintage store cast-offs and eclectic gadgetry.
Shoreditch also sits beside the famous Spitalfields Market, a one-of-a-kind indoor bazaar where the fashion designers of tomorrow come to sell their newest creations. Hosted within a listed Victorian-era warehouse, the Spitalfields Market is the place to go for vintage wares and oddities. To the north of Shoreditch sits the ultra-cool borough of Hoxton, known for its extensive street art and unique cultural atmosphere - this is where the coolest of the cool find the best coffee, the newest artists and the hottest records. This is also where the famous White Cube Gallery can be found, where works by Damien Hirst and other elite British artists reside.
Shoreditch is well-known as one of the coolest parts of London, and is often parodied as a self-consciously hipster quarter. While there is some truth to this, it doesn't stop Shoreditch being a unique and vibrant borough with lots to recommend it; there's plenty of interesting places to eat, lots of street art to take in and there's never a dull moment.
Bermondsey
Our final trendy district takes us south of the Thames again, on a short trip across Tower Bridge into fashionable Bermondsey. This borough hosts many of London's top restaurants and is a foodie heaven; you could do much worse than starting at Antico on Bermondsey Street, then working your way up the road through Pizarro, the Garrison and José for a taste of the finest cuisine in London. Bermondsey, like Shoreditch, is also home to the ice-cold cool of the White Cube art gallery, which hosts some of the top contemporary artists in the UK, providing a feast for the eyes as well as for the belly.
Bermondsey's history is a familiar story of neglect and regeneration, with the borough rising from near-dereliction in the 1970s to a coveted upmarket postcode just a few decades later. The borough is one of stark contrasts; pre-war Victorian terraces rub shoulders with 1980s apartments, and the contrasts between rich and poor are strongly evident.
Nevertheless, Bermondsey is still home to a great deal of London's culture and has some of the coolest areas in the city. It's well worth checking out the Maltby Street Market for a slice of artisan bakery or homemade produce, and visitors would do well to seek out one of Bermondsey's many native breweries for a refreshingly unique beverage.
Finding "Cool" in London
While we've highlighted some of the best spots to find cutting-edge London culture, it's important to remember that London is itself a living, breathing city. If you're looking for the "real London" you'll need to discover it piece by piece - a street here and a view there, rather than a particular neighbourhood. The city is so vast and so alive that there are interesting things happening wherever you look, not just in one area.
It's also worth mentioning that almost every neighbourhood which becomes cool and trendy starts out dingy and run-down. It isn't just the boroughs with a reputation as a cultural hotspot - there are people all over the city doing amazing things, and wherever you go you're bound to find something unique that can't be found anywhere else. While Shoreditch, Brixton or Whitechapel will give you a real taste of their local culture, these trendy neighbourhoods certainly don't have a monopoly on p London's constantly fizzing creativity.
The Most Expensive Streets in London
It won't come as a surprise to anyone that London is home to some of the most exclusive addresses in the UK, and that there are some eye-wateringly expensive postcodes buried in the heart of the nation's capital. From Westminster to Sloane Square, there are dozens of streets scattered throughout London where not a single house is worth less than a million pounds, and many on which the "cheapest" property still costs more than £10 million.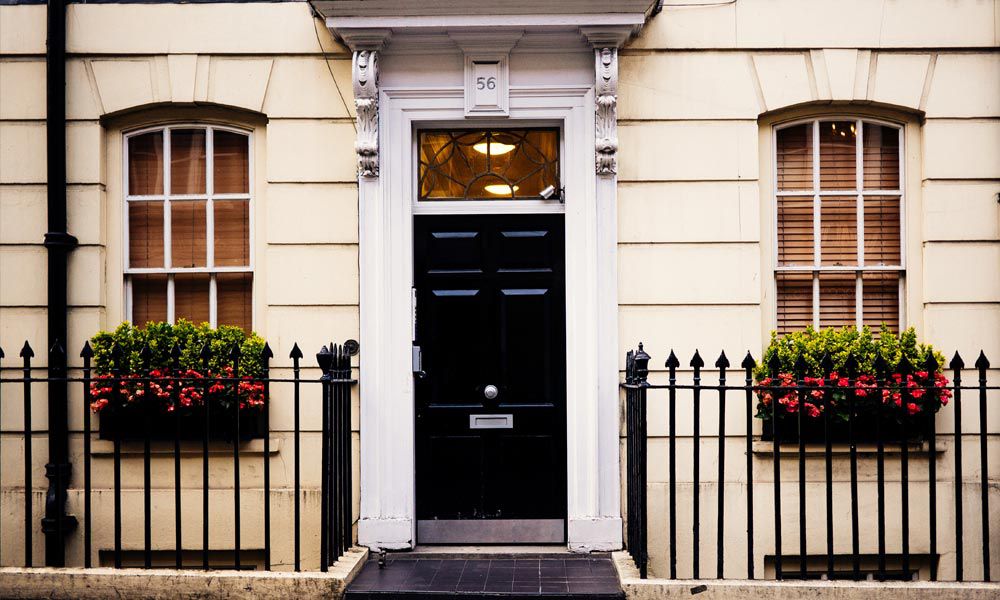 These homes are unimaginably valuable, and they're treasured as much for their symbolic status as for their sumptuous surroundings; for many owners of these properties, being able to tell acquaintances they live on Eaton Square or Grosvenor Crescent is a huge part of the reason to own a home there. While very few people may be able to even contemplate the purchase of a property in any of these locations, we're going to run down where to find the most expensive million-pound streets in London, and what to watch out for when you visit them.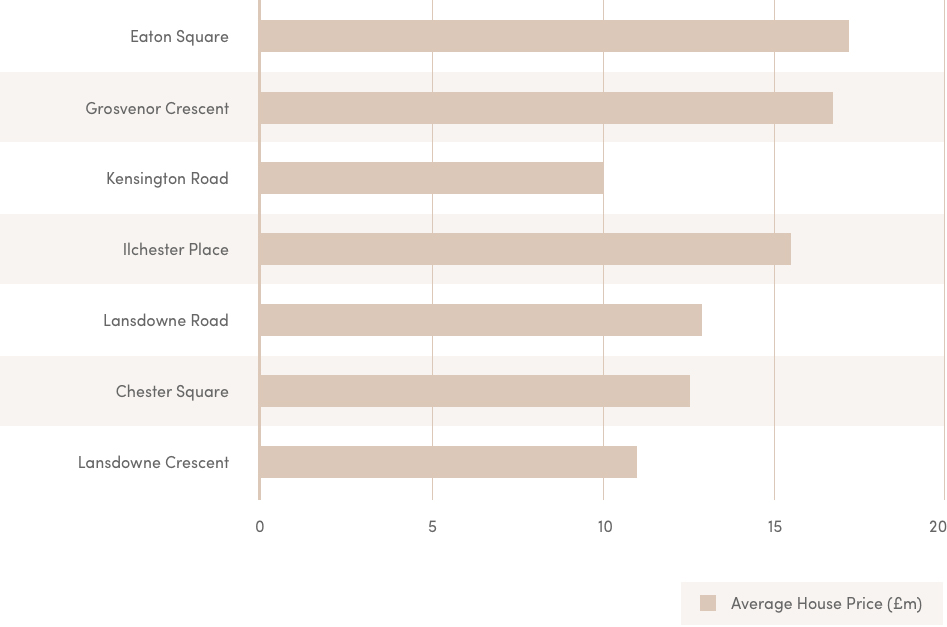 Chester Square, Belgravia, SW1W 9EA - £12,500,000
Chester Square is the epitome of stylish London upper class - the white stuccoed listed buildings hark back to the 19th Century, while the leafy shade of the gardens provides a gentle counterpoint. Developed by the Grosvenor family in the 19th Century, along with several other parts of Belgravia, Chester Square is one of the most sought-after addresses in the United Kingdom.
While the calm and quiet of this peaceful square provides a welcome solace from the hubbub of the big city, Chester Square is also perfectly placed to allow residents access to the top shopping and entertainment districts, so that a night out in the town is never far away. As well as providing easy access to the heart of London, Chester Square also puts Victoria Station and the Gatwick Express within a ten-minute walk (or a chauffeur-driven limousine ride), putting the rest of the UK and indeed the entire globe on the doorstep.
Claims to fame: No. 32 Chester Square features in the video for Morrissey's "Suedehead" single, released in 1988, which hit #6 in the UK charts. Our bequiffed hero is seen relaxing in the bath with a typewriter and the collected works of Byron whilst enjoying the peaceful, quiet atmosphere of this stratospherically expensive address.
What could you buy instead? Handy links to Gatwick are all well and good, but rather than a pied-a-terre in the city, jetsetting millionaires can simply buy their own private jet. A LearJet 70 typically hits the market at around £12,000,000, giving the owner a handy half-million to spend in the duty-free lounge, and makes it easier than ever to follow the summer around the world.
Kensington Road, Kensington, SW77 5EE - £10,000,000
While Kensington Road might not boast quite such a high premium as the properties on Chester Square, it can proudly reel off a list of national landmarks that surround this historic piece of real estate. A particularly reckless homeowner could hurl a stone from their back garden and hit the Royal Albert Hall, the Embassy of the Republic of Bulgaria, the Albert Memorial, the Royal College of Art, The Royal College of Music and, of course, Kensington Palace.
Properties on Kensington Road enjoy an unparalleled location, sitting on the very verge of the magnificent Hyde Park - simply crossing the road puts residents in this verdant, lush green space, something which very few City addresses can claim to offer. As well as providing residents with immediate access to the park, properties on Kensington Road are also within a ten-minute walk of the Science Museum, the Natural History Museum and the Victoria & Albert Museum, offering any number of opportunities to attend exciting exhibitions and mind-expanding tours. For those with a taste for retail therapy, the world-renowned shopping districts of Knightsbridge are only a short walk away, offering residents access to the top names: Burberry, Harvey Nichols, Tommy Hilfiger, Dior and Versace all call Kensington their home in London.
Claim to fame: Kensington is home to many representatives of foreign powers, who place their embassies close to the heart of Government in nearby Westminster. The Israelis, Bulgarians, Iranians, Ethiopians, Thais, Tunisians, Afghans and U.A.E all have a presence in or near Kensington, and diplomatic limousines are a common sight on the streets here.
What could you buy instead? Instead of a three-bed home on Kensington Road, investors could spend £10 million on prime Martian real estate - plenty of companies offer extraterrestrial land for sale at knock-down prices, with acres on Mars costing as little as £10. Purchasing a million acres on the Red Planet might seem like a long shot, but your money certainly goes further - the whole of London only takes up 388,000 acres, and when colonists start landing you might well wish you'd bought up all that tasty real estate on the slopes of Olympus Mons.
Grosvenor Crescent, Belgravia, SW1X 7EE - £16,900,000
The gateway to Belgravia, Grosvenor Crescent is one of the many Range Rover and Bentley-lined streets in this prodigiously high-value area of London. This road takes its name from Belgravia's creator Lord Grosvenor, Duke of Westminster, the 19th Century aristocrat responsible for the unique style and wealth of this area of London. As with many of these fabulously valuable locations, the properties on Grosvenor Crescent are finished in a modest, understated external style, featuring the ubiquitous Belgravian white stucco which denotes serious wealth.
Situated just a short hop from Westminster itself, Grosvenor Crescent is home to several foreign powers (including the Belgian and Luxembourgian Embassies, as well as the Malaysian High Commission), and the wealthiest of the wealthy rub shoulders daily with major players on the world stage. At an average house price of £16.9 million, the properties on this street are amongst the most expensive in the world, though they manage to retain an understated elegance that's often lost elsewhere in the world - Mumbai's "Antilia" tower, for instance, has often been compared to an oversized IKEA CD rack, not without justification.
Claims to fame: Russian businessman, investor and Chelsea FC owner Roman Abramovich is a Grosvenor Crescent resident. The second-wealthiest man in the UK can sometimes be spotted in the area when Chelsea are playing at home, and with Chelsea lifting the Premier League cup again in 2017, it looks likely that Roman will remain in the UK for some time to come.
What could you buy instead? £16.9 million goes a long way, and while top-notch postcodes in the capital are one way to invest, no amount of money is going to change the English weather. Finding warmer climes is a universal human desire, and nowhere on earth is warmer all year round than the Caribbean, where a dedicated investor can join Richard Branson in purchasing an island of their own. Frozen Cay, a 40-acre patch of sand and palm trees in the Berry Islands, just 40 miles from Nassau, is on the market for £15,000,000 - it's only accessible by boat or private seaplane, though, so you'll need to make sure you can get there!
Eaton Square, Belgravia, SW1W 9AN - £16,900,000
It shouldn't come as a surprise that many of the most expensive London streets are concentrated around the Belgravia and Westminster areas - situated so close to the seats of power and Parliament, these addresses are sought-after by many who hold the reins of power, and those with immense personal wealth. Eaton Square now tops of the lists of the UK's most expensive streets, and a house here costs on average 3 times as much as the most expensive streets outside of London (£5.2m in Weybridge, and £4.6m in Poole).
It hasn't always been this way, however, and Eaton Square, though always a securely upper-class address, wasn't the creme-de-la-creme until after the Second World War, nearly a century after the square was constructed. Up until this point, addresses in Mayfair and Park Lane dominated the elite real estate world, but increasingly these buildings became occupied by businesses and institutions, and private owners were pushed out. This led to the increasing popularity of Eaton Square as a residential address, and its eventual position as the "most expensive street in Britain".
Properties on Eaton Square were originally constructed as 3-bay homes, each of which consisted of 4 or 5 living floors, attics, basements and a "mews house" (originally stables, but converted to form a living annex) situated at the rear of the property. Nowadays, the Grosvenor Estate has converted many of these properties into smaller apartments, often spread laterally across several frontages. These flats are still sumptuous by anyone's standards, and reflect the fact that few buyers really need an 8-bed home with space for servants and a stable these days.
Claims to fame: British Prime Minister Neville Chamberlain lived at No.37 Eaton Square, and as a politician his lasting legacy was his policy of appeasement towards the Nazi menace. Ironically, his successor as a resident at No.37 was Joachim von Ribbentrop, the German ambassador to the UK in the lead-up to the global conflict that was soon to come. Ribbentrop managed to alienate London's power brokers and politicians by calling all the top tailors out to Eaton Square and keeping them waiting for hours, then sending them away unseen (and unpaid). He also nearly took out King George VI's eye with a Nazi salute, and caused almost everyone in Westminster to despise both him and the regime he served.
What could you buy instead? Crowdfunding platforms are an innovative way for designers to kick-start their projects by sourcing pre-sales for their new ideas, and some of them catch fire (figuratively, ideally) in a way that few could predict. Products such as the "Pebble" smartwatch and the "COOLEST Cooler" have raised far, far more than they initially asked for - the COOLEST Cooler asked for $50,000, and ended up with $13.5 million instead. £16.9 million is more than enough to fully fund any number of Kickstarter projects, and owners of a prestigious Eaton Square address can fill it with dozens of products they've personally financed.
Why are these homes so expensive?
There's one small question that it's hard to ignore - what is it about these properties that makes them worth so much? They tick pretty much every box you could conceivably want; they're in the perfect location, they're often listed buildings, the area is quiet, peaceful and serene, yet located close to the best shopping districts and national attractions in the country. Still, though, this doesn't necessarily explain why a 4-bed flat in Grosvenor Crescent costs the same as a country mansion or a Bristol townhouse - there are plenty of properties in the UK which just as nice, just as well-placed, and cost only a fraction of what these homes go for.
The answer, as with any market, is in the demand. Overseas investors see an SW1 postcode as essentially a way to store capital safely, and the option to securely deposit tens of millions of pounds in real estate is extremely valuable for these investors. However, this impacts the nature of these neighbourhoods - with most of the borough's residents living overseas there's very little sense of community. Many of the properties stand vacant unless the owner is coming to visit, so it's hard to develop any sense of neighbourhood in these areas.
Additionally, these top-flight properties appear to have suffered in the past few years from a combination of factors, and while they haven't lost any of their magnificent value, they've failed to grow as the rest of London real estate has. Uncertainty over the 2016 Brexit vote has worried foreign owners who aren't sure how EU negotiations will pan out, and are reluctant to invest their money in real estate which they may struggle to access. In addition to this, the UK Government recently introduced a 3% Stamp Duty surcharge on the purchase of second homes, which adds a hefty chunk to the purchase of these homes - a £17 million house would incur an additional £500,000 from this 3% increase.
While there's no sign that these homes will ever be "affordable", they may not represent the best investment purchases right now. However, London property prices are growing all across the city, and we've highlighted some of the best (and worst) places to invest in real estate.
Where to find the best London schools
Anyone looking to raise a family wants to ensure that their loved ones have the best start possible in life, which means making certain that they're getting the best education possible. Numerous studies have shown that the quality of education a child receives at every stage of their development has a major impact on their later life and achievements, so it's vital to find the best school possible for your children. However, while London has many schools with exceptional Ofsted ratings and high qualification successes, there's also a lot of competition for the best school places, so anyone moving to London will need to bear in mind the best schools in London for their children.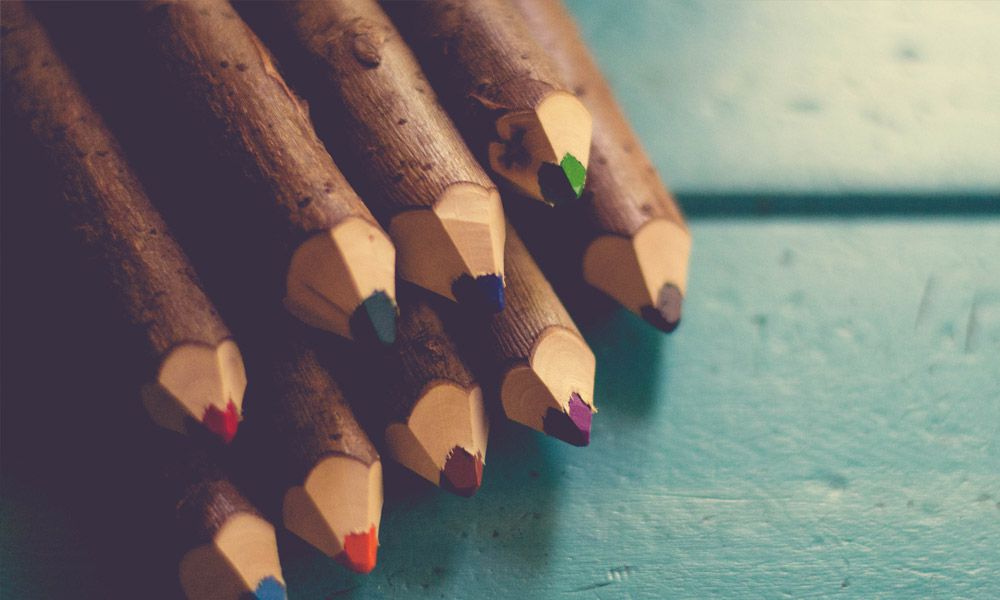 Catchment area plays a big part in determining which children are accepted into which school; although it is generally the least important "deciding factor" in which children are granted places (with medical necessity, religion, sibling students and other factors taking precedent), it is one of the few factors which parents have control over. While catchment areas may sound simple, they are often complex and do not fall as one would expect - you might find that one street falls in catchment, while the next street over doesn't, or that a new housing development is allocated places at a school while the surrounding streets aren't. Therefore, it's important that buyers thoroughly research the rules which the school has put in place, which should be freely available either from the school directly, or from the local authority.
St Marylebone Church of England School
64 Marylebone High Street, W1U 5BA
020 7935 4704
Ofsted Rating: Outstanding (1)
Ages: 11-16
All Girls School
The St. Marylebone C of E School was founded in 1791, and is an all-girls school with an attached sixth form that serves both Christian and non-Christian students. Since 2011 the school has held "Outstanding Academy" status, which has placed it at the very forefront of education in the UK and reflects its ongoing commitment to providing the very best start in life for young women.
This school caters to students from Year 7 to Year 11 when they complete their GCSEs, and the attached sixth form school also takes students through their A Levels. Students can enter at Year 7 and at Year 11, but casual admissions are also provided on a "one in, one out" policy", where pupils are accepted as places become vacant.
Situated just a stone's throw from Regent's Park, St. Marylebone C of E school holds extremely high standards, and offers an exceptionally high degree of achievement from students, with 93% of students achieving a C grade or higher in their Maths and English GCSEs.
Barrow Hill Junior School
Bridgeman Street, London, NW8 7AL
020 7641 5005
Ofsted Rating: Good (2)
Ages: 7-11
Getting a good start early in life is vitally important, and Barrow Hill Junior School aims to provide exactly that with its well-balanced program of sports, arts and STEM subjects. By taking a rounded, holistic view of education Barrow Hill aims to give youngsters the tools they need to succeed in the wider world and to proceed on to higher education.
Barrow Hill has established links with various London institutions, including the National Theatre, British Film Institute, the Literacy Tree and the Queen's Gallery at Buckingham Palace. In addition, the school works to give pupils a sense of history through their local heritage project, which saw the students interviewing alumni, local residents and nearby history groups to build up a picture of Barrow Hill as a place with an identity all of its own.
Halcyon London International School
33 Seymour Place, London, W1H 5AU
020 7258 1169
Admissions: join@halcyonschool.com
Ofsted Rating: Outstanding (1)
Ages: 11-18
The atmosphere and attitude of a school are what creates the right environment for learning, and at the Halcyon London International School there is a strong commitment to providing an education that will "draw out, nourish and awaken the unique potential of each student". The Halcyon School caters to students from any and all backgrounds and is one of the few not-for-profit international education establishments - the school was created by four families with experience of International Baccalaureate World Schools.
As an outstanding secondary school, the Halcyon London International School boasts impressive Ofsted ratings, and while the school is not listed on the Government's school comparison website, the most recent Ofsted inspection makes it clear that the school is exceptionally good, with "outstanding" ratings across the board.
Southbank International School
36-38 Kensington Park Road, London, W11 3BU
admissions@southbank.org
020 7243 3803
Ofsted Rating: N/A
Ages: 3-18
"Education without walls" is the byline for the Southbank International School, and this educational institution focuses on a holistic approach to education rather than a rigorous adherence to uniforms and lesson bells. This isn't to say that the school isn't committed to getting the best for its students, though - Southbank International boasts university offers from such prestigious institutions as Harvard, Cambridge, and Princeton.
Southbank International is a highly diverse school, where many places are taken up by the children of diplomats and businessmen, and the school has an admirable attitude to integration that promotes tolerance and acceptance. By treating students as adults and allowing them to take responsibility for their own education, Southbank International School provides a wide-ranging and eye-opening experience for its pupils, fully preparing them for life ahead.
The American School in London
1 Waverley Place, London, NW8 0NP
020 7449 1200
webmaster@asl.org
Ofsted Rating: Outstanding (1)
Ages: 4-18
The American School in London was created in 1951 by an American journalist, Stephen L. Eckhart, who began by teaching 13 students in his Knightsbridge flat. The school quickly grew larger, and over the last half-a-century has become one of the leading international schools in London. Offering an American education overseas, it holds true to the virtues of respect, responsibility, kindness, courage and integrity that provide a child's roadmap for life.
The American School in London provides exceptionally high standards of education for its students, and recent Ofsted inspections have highlighted the high level of achievement amongst pupils at the school. By providing an all-around education for students, the ASL offers everything a child or young adult needs to begin life on the right footing, and for American families living abroad, it provides the opportunity to minimise disruption to their children's education.
International Community School
4 York Terrace East, Regents Park, London, NW1 4PT
admissions@ics.uk.net
020 7935 1206
Ofsted Rating: N/A
Ages: 3-18
The London ICS is a highly diverse and well-integrated institution which focuses on creating a "selective and inclusive community", in order to create a new generation of world citizens. The International Community School emphasises the importance of ensuring that students empathise and engage with people from all walks of life and that their eyes are opened to the world around them. In addition to this, the ICS also provides a strong and stable learning environment that generates exceptionally good results year-on-year.
The need for students to develop an appreciation for the experiences of others and to understand and empathise with those around them is vital in the modern era, especially for international students who often travel from country to country. The ICS provides a safe, well-balanced learning environment that promotes more than just good grades; it gives pupils the tools they need to work together in the 21st century.
Choosing and applying to a London school:
When moving to a new city it's important to understand the particular rules and regulations surrounding application to educational institutions. The UK's educational policies are generally set by the local authority, which determines how schools may select their students; state schools are subject to these rules, but private schools are not. As most international schools are privately-owned institutions, applicants will not necessarily need to concern themselves with the rules laid out by the local authority. However, state schools must comply with these regulations, so if you're planning to apply to a local state school you should contact the local education authority for information on their application policies.
When selecting a school for your child there are many different factors to take into account beyond the raw grades which the school provides. League tables are a good indicator of a school's overall performance, but only provide a narrow view - it's important to look beyond these numbers to determine if the school is right for your child:
Facilities: If your child is a keen swimmer, or has demonstrated some precocious scientific talent, it's important to ensure that you pick a school which can give them the opportunities to develop their skills.
Attitude: Some schools focus on achievement from an early age, which can limit pupil's exposure to a well-balanced education; a school which boasts top-of-the-league exam results might do so at the cost of neglecting a rounded education. Check that your school will provide students with a holistic education, not one that focuses solely on examinations.
Ofsted Reporting: The Government makes available a wide array of Ofsted documentation on many schools, allowing parents to dig deeper into a school's inspection history and overall rating. It can be illuminating to discover an in-depth report on the school's performance, and it's a good idea to check out a full Ofsted report when researching schools.
Healthcare in London
The foremost consideration for anyone moving to the UK must be ensuring that they and their families are kept safe and healthy. Beyond any other considerations, residents must consider where they will turn for healthcare, and what standards they can expect; while the NHS across the UK provides exceptional point-of-care support as much as possible, the service does vary from one hospital to the next. With budget shrinkages, many hospital have had to trim back the services they offer, which means that specialist treatments are more and more concentrated in fewer units. With that in mind, it's vital that anyone planning to move to London considers what their potential healthcare needs will be, and how the local healthcare facilities will be able to meet these requirements.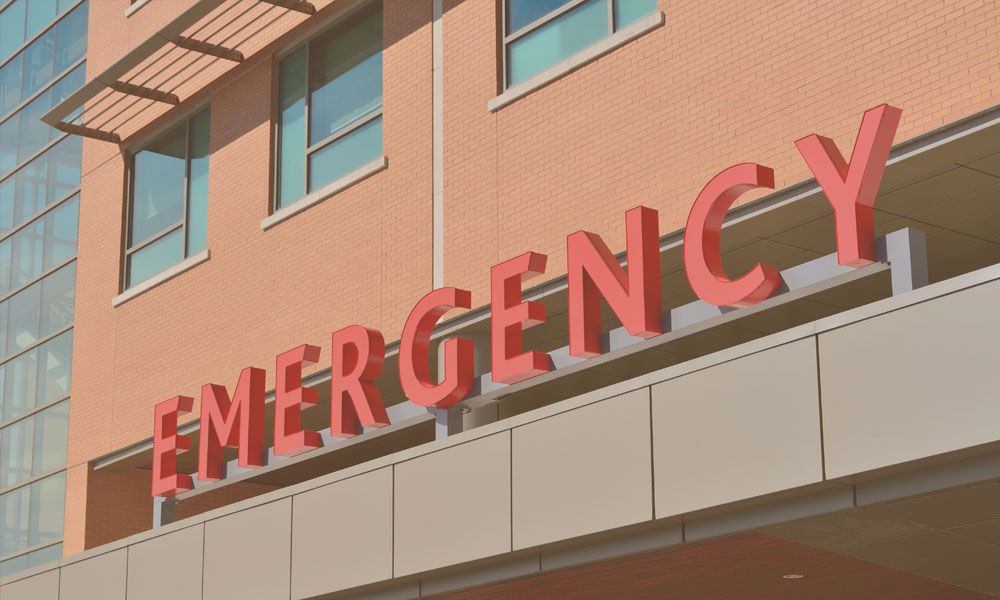 Medical Care in the Capital
London has for a long time stood apart from the rest of the UK in terms of the healthcare it offers, and is in many ways a separate entity. A fifth of the NHS's national budget goes to London institutions, and while this may sound like a lot, the sheer size of London's population means that there is a constant demand for medical care amongst London residents.
The General Practitioner is most people's first port of call when dealing with health issues, and generally speaking London's GP surgeries are smaller but more numerous than those in other parts of the country. A study found that 31% of London GPs worked single-handedly (double the national average), and that 35% of practices had fewer than 2,000 patients (compared with 20% across the UK as a whole). This means that although there may be plenty of GP surgeries around, it's important for residents to check the specific conditions and waiting lists of their local practice, which may be over-subscribed.
There is also a great deal of variation in the healthcare available across London, with treatments varying from highly specialised private hospitals such as Lister Hospital to the general health care and emergency services at Cromwell Hospital, to the experimental cutting-edge treatments available at the Princess Grace Hospital. Some NHS institutions serve large portions of the capital, while many private hospitals are also available for specialist and high-quality services.
Hospitals in London
Choosing the right hospital for your needs is vital, and here we'll run down some of the primary healthcare institutions in the UK's capital. There are dozens of hospitals and trusts scattered across the capital, which we aren't able to list in full - however, the NHS and private hospitals provide detailed search functions to help you understand what medical care is available in your area.
Queen Elizabeth Hospital, Woolwich
Stadium Road, Woolwich, London, SE18 4QH
Open Since: 2001
Phone: 020 8836 6000
Beds: 521
Operator: NHS
Speciality: General Care
A&E: Yes
The Queen Elizabeth Hospital situated in Woolwich is one of London's most central and busiest hospitals, handling thousands of patients every single day. While this hospital is located in the centre of the city, it is also responsible for running many other departments across Greenwich and Lewisham, to which it outsources many different treatments. As a major healthcare centre, the Queen Elizabeth Hospital provides pretty much any treatment that could be required in the course of a long life, from childbirth to A&E, X-Rays, geriatric care, mental well-being and fertility.
As a public healthcare facility, the Queen Elizabeth Hospital is a great choice for expats who want assurance that they'll be able to access emergency care as and when they need it. However, the growing strain on the NHS has caused waiting times to increase, and it's often a good idea to have some form of private healthcare option available should it become necessary.
Lister Hospital, Chelsea
Chelsea Bridge Road, London, SW1W 8RH
Open Since: 1985
Phone: 020 7730 7733
Beds: 57
Operator: Hospital Corporation of America
Speciality: IVF, plastic surgery, dermatology, orthopaedics
A&E: No
The Lister Hospital, named after Sir Joseph Lister, is a highly-specialised private hospital sitting right on the edge of the sought-after London borough of Chelsea. This institution is committed to providing world-class healthcare, and offers a range of services to customers from IVF to plastic surgery, orthopaedics, gynaecology, dermatology and ophthalmology. The standards of care at this hospital are exceptionally high, and patients are always seen by a dedicated staff of highly trained consultants.
The services available from the Lister Hospital are second to none in their field, and provide a swift, straightforward solution when medical care must be sought immediately. However, the Lister Clinic does not operate an emergency clinic, and is not a suitable choice for accidental injuries; for this, it's important to seek the services of an A&E clinic.
St. Pancras Hospital, Kings Cross
4 St Pancras Way, London, NW1 0PE
Open Since: 1998
Phone: 020 3317 3500
Beds: N/A
Operator: NHS
Specialism: Mental Health and Geriatric Care
A&E: No
St. Pancras Hospital is an NHS Trust that specialises in providing care for the elderly and mentally infirm within the community and at the hospital itself. Across several different care units, St. Pancras Hospital provides a wide variety of mental health and disability care to ensure that older members of the community are able to access the services they need to maintain their welfare throughout old age.
Because St. Pancras Hospital is a specialist trust, it focuses purely on accommodating the needs of the elderly within the community. The hospital provides emergency services for mental health services, and it enables patients to receive care quickly from highly trained staff. However, as a primarily mental health and geriatric facility it does not provide general healthcare for the population as a whole, which means that residents will need to go elsewhere for A&E and more routine services.
The Princess Grace Hospital, Marylebone
42-52 Nottingham Place, London, W1U 5NY
Open Since: 1977
Phone: 020 7486 1234
Beds: 127
Operator: Hospital Corporation of America (HCA)
Specialism: Advanced Treatments, Sports & Exercise
A&E: No
Created by and named after Princess Grace of Monaco, this highly specialised private hospital offers some of the finest treatment in the world to its patients. The Princess Grace has been at the cutting edge of medical technology for many decades, and since its inception has offered world-leading surgical and non-surgical techniques for an enormous variety of treatments. By offering such a high standard of care, the Princess Grace Hospital is able to provide patients with confidence that they will be able to obtain the very best of the best, and while this institution does not offer a general A&E service, it does provide acute treatment services for when medical issues need resolving quickly.
The Princess Grace Hospital has recently begun focussing on providing top-notch sports and exercise injury services, and has extended its care to cater to these highly specialised requirements. Top-end athletes need the very best of the best when it comes to playing at the top of their game, so the Princess Grace must be able to provide care that is beyond compare.
St George's Hospital, Tooting
Blackshaw Road, London SW17 0QT
Open Since: 1733
Phone: 020 8672 1255
Beds: 1,000
Operator: NHS
Specialism: Major trauma, stroke, neurology, complex surgery
A&E: Yes
St George's Hospital on the south side of the Thames provides a huge array of medical services to London, and even to the South-East of England. As a teaching hospital, this institution represents the best care that the NHS provides, and is a major medical research centre - many cutting-edge developments are made here, and as such the hospital offers some of the best medical care in the country. Patients at this hospital are able to access advanced neurological and surgical procedures, and St George's Hospital also hosts one of London's four major trauma units, in addition to one of its eight advanced stroke units.
The many services on offer from St George's Hospital make it an all-around medical solution for any of the services which residents of the UK may need in the course of their life, and while it's possible to access many of these services in hospitals across London the less central location of St George's mean it's a little quieter and less overworked than the inner-city hospitals. However, fewer specialist private treatment centres are available in the local area, which makes it harder for residents to access these services if they need to.
Choosing and registering with a local hospital
Depending on where you choose to live, you will have a range of local medical services available to you. This will vary depending on the precise location, but the first port of call for any family is to register with the local GP surgery - for anything that isn't an emergency, you'll be going to your local doctor, who will either refer you to the hospital or prescribe a treatment. A GP practice with several doctors on staff is more likely to have appointments available, but don't forget that many procedures can be carried out by qualified nurses - things like routine prescriptions and syringing ears.
In the event that you or your loved ones need medical attention, you'll be referred to the nearest hospital with the appropriate equipment. For this reason, it's worth checking out the services on offer from your local hospital - if the only institutions near you can't provide the care you need, you may need to travel further afield. This can be mitigated by choosing to attend a private hospital instead, but be aware that you may need to be pre-registered before you can use their services, and you will certainly end up paying to use them.
By ensuring that you have a balanced selection of local services that allow you to access emergency health care when necessary, and specialist treatment in the event of serious medical issue, you will be able to safeguard yourself and your family against potential health risks. Before moving into an area, be sure to check the local healthcare provisions and how you will be able to access them.
Shopping in London
There's nothing like a bit of retail therapy at the weekend to help you let off a little steam, and for many people throughout the world the chance to spend a day browsing through designer clothes and the newest gadgets then picking up a made-to-order coffee at a local cafe makes for a perfect weekend. Shoppers all over the world turn green with envy when they hear the name London - the UK's capital city is a shopper's paradise, and has everything even the most devoted spender could possibly want. From the exalted designer boutiques of Knightsbridge and Jermyn Street to the cool hipster destinations of Camden and King's Road, and even the enormous consumer Meccas that are London's two Westfield shopping centres, there's something for everyone in London.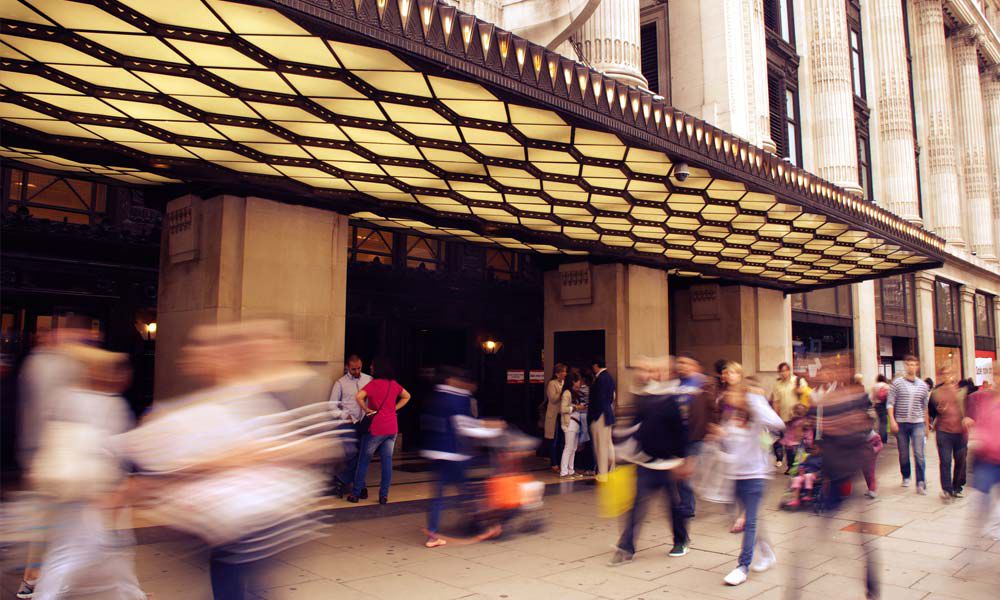 Getting around in London
Before you go anywhere, it's important to have an idea of how you're going to get around. While the Tube is a hugely convenient way of getting from A to B, it's no fun navigating the busy weekend crowds with both hands full of newly-bought goodies; it's a good idea to minimise the number of journeys you'll have to take through the city, so pick a few shopping areas that are relatively close together. If you can walk it, you'll save yourself the hassle of public transport (and the expense of a cab), and it's a great justification to stop for a quick snack on the way!
Where to Shop in London
Shopping in London is almost without compare in the rest of the world. Paris has its fancy boutiques along the Champs Elysee, New York has its stunning high-rises, and Dubai can't be beaten for brand names - however, nowhere provides the sheer variety that London does, and the environment is second to none; parks and leafy gardens abound, and London's hundreds of years of history are on display at every turn.
We're not going to list everywhere you could possibly shop - there's just far too much to take in, so we'll list some of the most important and interesting shopping destinations, and who they'll appeal to. There are also some world-famous shops to watch out for, which we'll highlight in each section - make sure to pay these a visit, even if it's just to take a look!
Knightsbridge - High flyers and expensive tastes
If you've never been to London before, Knightsbridge is a great place to start - when people talk about London shopping, this is what they picture in their mind's eye. The world's top brands call Knightsbridge their home in London, and Knightsbridge features everyone from Dior to Chanel, Tommy Hilfiger to Ted Baker, Prada to Bang & Olufsen - they're all here, and the sheer number of top brand names is enough to make you drop (not to mention your bank balance). That's not to say that every store here caters to the ultra-rich brand name lovers - there's a Gap, Topshop and plenty of other outlet stores with more affordable price tags.
Knightsbridge also sits right next to many other London landmarks, including Hyde Park, the V & A Gallery, and several Royal Museums. If you need a break from shopping it's easy enough to find a cafe on a leafy side street in order to refuel, or to pop down to a gallery and take in a little culture before heading back into the fray.
No mention of Knightsbridge would be complete without mentioning "the" London store, Harrods. Together with Harvey Nichols, Harrods forms a central part of the London shopping experience, and even if you've no intention of making a purchase it's well worth a visit simply to see this English retail institution. Harrods' brand of "retail theatre" is something not to be missed, and if you visit after the sun goes down you'll be treated to the magnificent sight of the entire building lit up from the outside.
Shop here for: Designer brands, top-end accessories and clothing in a one-of-a-kind environment.
Shop elsewhere for: A cheap day out.
Carnaby Street - Individual, unique, hip.
Carnaby Street is one of the iconic settings of London's Swinging Sixties, where such legends as Eric Clapton, John Lennon, Jimi Hendrix and Mick Jagger could be seen picking out new outfits. It became such a huge part of the London scene in the '60s that the Kinks even satirised it in their song "Dedicated Followers of Fashion", poking fun at the hipsters who spent their every penny on ever more outrageous clothes to outdo one another. Fast-forward 50 years and Carnaby Street has retained its sense of cool individuality without succumbing to navel-gazing nostalgia; Carnaby's 13 streets have a vibe all of their own, and play host to dozens of interesting boutiques and eateries.
Well-known British brands such as Barbour and Ben Sherman can be found here, but Carnaby Street is also a hive of diversity, where many smaller shops and pop-ups can be found. Adidas Originals, MOSCOT, Shinola and Estee Edit concept stores have all been found in Carnaby Street, and nowhere else. The food in Carnaby Street is also hugely diverse with eateries from all over the world congregating in Kingly Court, a three-storey open-air courtyard that hosts some of the finest restaurants, cafes and pubs in the city.
Carnaby Street is well connected with London, and the Piccadilly and Oxford Circus tube stations are just a five minute walk away, in London's historic West End. Visit Carnaby Street for a taste of the cool, diverse London that can't be had anywhere else in the city.
Shop here for: The coolest brands, the newest names and a diverse, energetic atmosphere.
Shop elsewhere for: Big chain stores.
Westfield Shopping Centre - What more could you want?
There are two Westfield shopping centres in London - one in Stratford, just to the east of the centre, and one located slap bang in the middle of the city. Nestling between Covent Garden and the City of London, this central shopping centre is perfectly-placed for anyone who wants to taste London shopping at its finest, and wants to find everything they need under one roof. This enormous mall features more than 265 individual stores hailing from 15 different countries, and even hosts a 14-screen cinema, a gym and a spa.
This shopping centre houses such high street staples as House of Fraser, Marks & Spencer, Topshop, Zara and Waitrose, but it also accommodates some slightly more esoteric shops. The beauty of these all-in-one shopping destinations is that you can comfortably spend an entire day under their roof without running out of things to see or do.
Both of London's Westfield centres offer different experiences; the central Westfield is close to both Soho and Westminster, and so benefits from an influx of tourists and visitors during the summer months. While this makes it handy for many other London landmarks (London Zoo and Madame Tussauds are just a short journey away), if you're only visiting for the shopping experience, it can be quite crowded. The Stratford Westfield is a good choice for residents who want to visit a large, well-equipped shopping centre without dealing with huge crowds, and can make a perfect destination for those on London's east side.
Shop here for: Big names, chain stores, everything under one roof.
Shop elsewhere for: Independent stores, high-end designers.
Savile Row - The last word in tailoring
Few streets are known around the world, but Savile Row is one of them - these two words are synonymous with the very finest men's suits that money can buy, and attract customers from all over the planet for the very best bespoke-tailored suits. Tailors such as Dege & Skinner have been operating for more than 150 years as small, family-run businesses, and pride themselves on having the absolute highest standards in the industry. The sense of history and integrity on Savile Row is impossible to overstate, and the 40 or so tailors which call this part of London home are amongst the finest in the world.
Visitors to Savile Row will notice the unusually large windows facing the street on Savile Row; this is because much of the fabric-cutting is done upstairs at each tailors, and requires as much light as possible. In the 19th century, natural light was the only option, so tailors had to invest in the biggest windows they could afford. This gives the area a distinctive identity set apart from many other areas in London, and recent investment from new businesses has provided a steady influx of cutting-edge modern influences.
Savile Row has a somewhat incongruous claim to fame as the site of the very last Beatles gig. The moptop quartet had a recording studio at No. 3 Savile Row in the late '60s, and recorded a live performance on the roof as part of a documentary. The show was stopped mid-song by the police, with Lennon quipping "I hope we passed the audition . . . ".
Shop here for: The finest suits money can buy
Shop elsewhere for: Off-the-shelf fashion, chain stores.
Camden - Weird, wonderful and unique
Camden is the go-to London borough for trendy kids and hipsters, and represents a huge part of London's incredible cultural diversity. There are hundreds of small shops clustered around Camden Lock, which also features several music venues and the annual Camden Rocks festival. Shopping in Camden is like diving into a treasure trove of alternative and unique clothing - the many stalls that line Camden High Street have almost any type of clothing you could possible imagine, from Gothic jewellery and garb to "cybernetic rave gear" from Cyberdog.
In Camden Market a cornucopia of small vendors sells almost any food from tiny hole-in-the-wall establishments, and a delicious meal can easily be had from any one of these sellers. The sheer choice on offer in Camden can make it bewildering, but for those who are willing to dive in headfirst there's a lot to discover, and even more to love. The casual, bohemian atmosphere of Camden is infectious, and street performers can be found at any time of year - this part of London makes a refreshing break from the relentless retail of the inner city, and provides a great alternative shopping destination.
Shop here for: Alternative, unique items and a carnival atmosphere.
Shop elsewhere for: Big names, big brands and superstores.
Spitalfields - Tomorrow's biggest names, today
Spitalfields is one of the burgeoning independent market areas where start-up designers can come to sell their wares. It's much easier for these up-and-coming talents to secure a space at Old Spitalfield Market than it is to purchase a shop on any street, which means that visitors to Spitalfields are treated to a truly vivid spectrum of London's energetic fashion scene. Everything from bohemian outfits to African and vintage designs can be found in these markets, and you never know what you're going to find.
You could be forgiven for imagining that Spitalfields is a slightly run-down, slightly shabby part of town - not so, though; Old Spitalfields Market is one of the finest surviving Victorian arcades, and provides a splendid atmosphere for the hustle and bustle of today's market. Located just a stone's throw from the City of London's Leadenhall Market, shoppers can spend a day browsing through handmade ornaments, bespoke jewellery and unique artefacts, then retire to a riverside cafe for a well-earned rest.
Shop here for: A bit of everything - ornaments, jewellery, one-off outfits.
Shop elsewhere for: Predictability.
Shopping and Spending in London
This article only gives you a taste of what you can find in London - there's plenty more on offer in every corner of the city, with almost every borough boasting a unique shopping quarter of its own. Besides, a few paragraphs are scarcely enough to describe the unique character of Carnaby Street, or the sheer grandeur of Knightsbridge - it really does have to be seen to be believed.
Living in London provides a fantastic connection to this globally-renowned shopping heaven. Unlike many other cities, though, London has much more to it than a retail heart; at every corner you'll uncover the twisting side streets, hidden cafes and secluded gardens that make this city both endlessly surprising and intensely personal.
The Best Markets in London
There's something almost magical about a good market - you never really know what you're going to find, and the casual informality of a street market has a charm that no shop can match. There are so many markets both big and small dotted all around London that you can be guaranteed a new experience every time you visit, and you'll find something new whenever you go.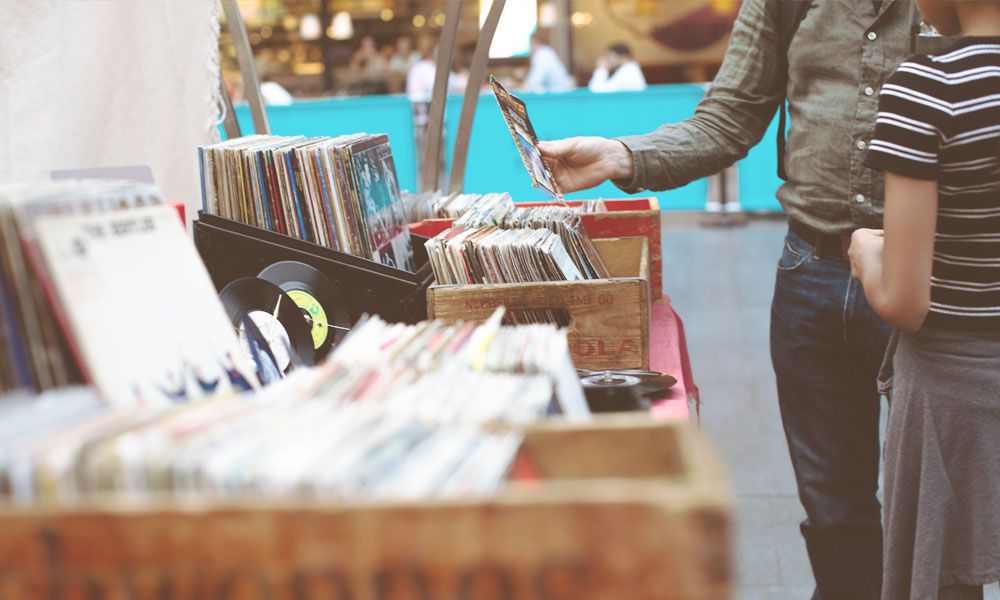 You can't beat a good market, whether you're looking for some artisan hand-baked bread, a unique vintage fashion accessory or even a retro gaming console. The tangled maze of stalls and tables at London's many fantastic markets make for an amazing experience, one which can quickly become addictive. Our list of the top markets in London is by no means exhaustive, but we've managed to pick a few of the most impressive ones that no Londoner should fail to visit. So whatever it is that you're looking for, dig out your shopping bag and get your coat - we're going to market.
Portobello Road - Antiques, handicrafts ... and everything else.
Portobello Road Market is as iconic a part of London as Big Ben or the London Eye. Every Friday and Saturday traders of all descriptions make their way here to sell their wares, and visitors can find everything from vinyl records to vintage clothing, centuries-old antiques to fresh fruit and vegetables. The market runs throughout the week, and while weekends are the busiest times you can find traders at work every day (except for Thursday afternoons).
Keep an eye out for the vintage antiques for which Portobello Market is best known, as you may be able to spot yourself a bargain. There are also plenty of homemade pottery and jewellery sellers, and you'll never know exactly what you're going to find from one stall to the next.
Camden Lock Market - The weird, the wonderful, and the way-out-there
Camden Lock Market is home to hundreds of small independent traders, many of whom sell homemade produce and craft wares. This makes Camden Lock Market one of those amazing spaces where you can come back week after week and never truly know what you're going to find - there are vendors of musical instruments, food sellers from around the world and there's always music being played. While it's nestled deep in the heart of London, the Camden Lock Market almost feels more like an ancient bazaar or an Arabian souk - this is how markets looked and sounded hundreds of years ago.
While the Camden Lock Market has been run within the local timber yard since the 1980s, the whole of Camden high street becomes a market on weekends. Hundreds of tiny vendors spring up to sell alternative clothing and oddities, which can absorb the dedicated follower of fashion for endless hours. Camden Market is also home to dozens of excellent food vendors selling all types of cuisine, everything from ethically-sourced vegan meals to authentic Cantonese fare.
Camden Market runs every day except Christmas Day, though stallholders may vary throughout the week. The market suffered from a substantial blaze in July 2017 which left the rear portion of the building blackened and burned; this affected many traders and effectively put some out of business. However, the market is back up and running as usual, though about a quarter of the venue is unusable until repairs are completed.
Spitalfields - High fashion, low prices.
It's popped up a couple of times in our London guides already, but no mention of London markets could be complete without Spitalfields, the legendary Shoreditch-based market that boasts all the best clothes from aspiring designers. Want to find the next name in fashion, or simply need something unique to wear? Spitalfields is bound to have it, if you're not afraid to spend time hunting for it.
Spitalfields Market is housed within a Victorian-era shopping arcade, which provides a genuinely stunning atmosphere in which to shop. Not only does this venue have an incredible ambience, it also keeps London rain from ruining market days, so put an afternoon in Spitalfields on your list of things to do on a rainy Sunday.
This part of London is well-known as the cutting edge of cool culture, and a visit to Spitalfields Market should be rounded off with a short hop into Shoreditch for a painstakingly prepared (and priced) coffee at one of the area's many hip cafes. Spitalfields Market is open every day, and while each vendor sets their own opening times most are open between 11am and 7pm.
Maltby Street Market - The best food in the best location
Maltby Street Market in fashionable Bermondsey is widely regarded as a food-lover's paradise where the finest cheeses, breads, pastries and delicacies can be found. Artisan bakers and cooks from all over London make their way to Maltby Street on weekends to sell their wares, with the market generally opening at 9 on Saturday and 11 on Sunday.
Not only is Maltby Street Market a great place to find wonderful food (with St John's Bakery and Monty's Deli being particular favourites) but Bermondsey is also home to several independent breweries. The famous "Bermondsey Beer Mile" is a renowned Saturday event where all the local microbreweries set out trestle tables and invite the public to sample their brews. From Hive Beers and Brew By Numbers to Kernel and the Bermondsey Distillery, there's plenty of liquid refreshment to be had just a short walk from Maltby Street.
With it's well deserved reputation for gourmet food and fine drinks, Maltby Street Market is a top destination for many Londoners on a weekend, and visitors come from all over the city to find the best cuisine around.
Columbia Road Flower Market - Bright flowers and fresh foliage in an all-indie street
As the name implies, the Columbia Road Flower Market is London's meeting-point for the green-fingered, where everything from peonies and plant pots to 10-foot banana trees can be found. Whether you're looking for something to brighten up the house or something special to fill out your flowerbeds, the traders at Columbia Road will have what you need. Even if you're not intending to buy anything the sheer amount of beautiful colours and fresh scents is beguiling, making this market a great place to spend a Sunday morning.
Many of Columbia Road Flower Market's stallholders have been coming every Sunday for generations, and some can claim to have worked the market since the 1940s. Few vendors arrive later than 4 in the morning, which highlights the dedication which these sellers bring to the market.
Columbia Road itself is full of small independent shops, and is one of the few all-indie streets in London. Everything from children's clothes to jewellery and Portuguese cuisine can be found in the shops, even when the market itself isn't running. Columbia Road Street Market is open from 9am to 3pm on Sundays (or thereabouts, depending on the weather).
Alfie's Antique Market - Packed full of vintage chic and antiques
Alfie's Antiques Market sits right in the centre of London, not far from Regent's Park, and is home to more than 70 individual antique dealers. Visiting this treasure trove of yesteryear is an amazing experience, where everything from '60s art-deco to '30s silverware and 19th century furniture can be found. There's nowhere else quite like Alfie's in London, and it makes for a great afternoon's pottering around - once you've perused the market stalls you can recharge at the rooftop terrace cafe, which provides a superb view across central London.
Alfie's makes a great part of a day out, because it's not far from many of London's other major attractions. The peaceful waterways of Little Venice, for instance, are only a short walk away, letting visitors take in a little bit of Britain's river culture.
Little Venice is best visited early in the morning, before the city wakes up, so head down before breakfast to watch the sun slowly bringing the area to life. Grab breakfast at a riverside cafe then head to Alfie's for a relaxed, unique day - Alfie's is open from 10am - 6pm, Tuesday to Saturday.
Whitechapel Market - All the essentials, with an Asian twist
Many of the markets we've looked at have been on the trendy, boutique end of the scale, offering specialised goods. However markets are traditionally a place for ordinary everyday transactions to take place, and the Whitechapel market is a living example of what markets have been for hundreds of years; the vendors come to sell to the local residents, and as a result much of the goods on sale in this market reflect the needs of the local population. You won't find artisan sourdough here, but thanks to Whitechapel's large Bangladeshi community you will find a wide variety of fresh Asian produce. Everything the local cooks need to make the Bengali cuisine for which the area is famous can be found in this market, from daikon and kohlrabi to halal meat.
Visitors to Whitechapel should be sure to grab a coffee from the local mobile vendors before walking through, and to keep their eyes peeled for local delicacies. The world-renowned Whitechapel Gallery sits just around the corner, too, so if you have a few hours spare after the market it's well worth a look - the market is open from 9am to 6pm every day except Sunday.
Making the most of London Markets
London's street markets are an integral part of the city's culture, and are one of the central components of daily life for local residents. An area's character is often based around the local market, and it can be the event of the week for many residents. A trip to market isn't just about finding something to buy, it's also about taking in the local culture; the whole population of an area will come out on market days, so it's a great opportunity to explore what makes each and every corner of London unique.
Where are London's best parks?
Life in a city comes with so many advantages - there's always something happening, there's always a new restaurant to try out or somewhere new to discover. In London especially there is a sense of living right in the beating heart of the country, where everything you could possible need is within just a few miles of your home. A sprawling metropolis like London has a lot to offer, and one of the most impressive aspects of this city is that it rarely feels like a concrete jungle - leafy avenues and spacious parks nestle in every neighbourhood, letting residents step out of the hectic city life every now and then.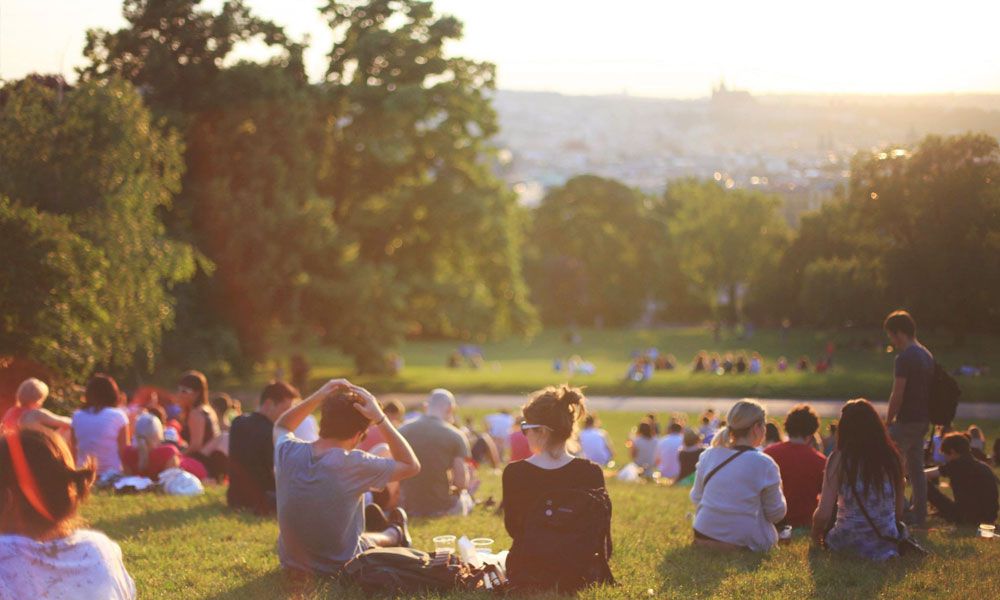 A nearby park is a valuable resource for any London resident, but especially those with children. Being able to nip out for an afternoon helps keep the kids occupied, and there's nothing better on a sunny weekend than a long walk around your local parkland. London residents are lucky enough to have some of the country's finest parks all located within their city, from the rolling grandeur of Richmond Park to the shady byways of Crystal Palace Park. Not every London park provides the same atmosphere, and it's important to understand what the character of your local park is.
There are few things more important than having some open air and space to visit on a weekend, to help you decompress and shrug off the stress of another week. Our guide to London's best parks will help you to pinpoint the city's finest green spaces so you can make sure your new home has everything you need.
Greenwich Park
In some ways, Greenwich Park can claim to be the most significant place in the whole of the UK. It's in this park that the famous Royal Greenwich Observatory stands, and where Greenwich Meridian Time (GMT) is defined; everyone in the UK syncs their days with this hill in south-east London. Beyond setting the timeline for the UK's 60 million inhabitants, Greenwich Park is also a beautiful open space, and is the oldest Royal Park in London (having been founded in the 15th century for deer-hunting). Since the 1700s the park has been open to the public, and the hill on which the observatory stands has for hundreds of years been a site for "tumbling", where locals would throw themselves down the hill for entertainment. Nowadays most visitors play frisbee, or simply take along a good book, but there's still plenty to do in this historic park.
As well as providing a huge open area in which to unwind (the park covers a good 200 acres, making it southeast London's largest park), Greenwich Park offers several horticultural delights to those with green fingers. The famous Rose Garden sits next to the Ranger's House, a National Trust property that hosts the astonishing Wernher Collection, the impressive assemblage of art amassed by Sir Julius Wernher. The park is also home to a herd of red and fallow deer, who can be seen roaming at will through "The Wilderness", a dedicated enclosure situated on the park's eastern border.
Getting to Greenwich Park is fairly straightforward from either the east or the west - Greenwich's own tube stop puts it less than a half-hour trip from the city centre or from Dartford in the east. Those who live to the south can easily hop on a bus or train to Blackheath, which sits a short walk from the park's southern edge, and residents of the surrounding area can easily enter the park from any direction. Greenwich Park is open from 6am year-round, with closing times changing throughout the year.
Crystal Palace Park
Crystal Palace is a name echoes through the ages; while most people today know Crystal Park as a Premier League team, for a long time the name was synonymous with British innovation. The eponymous Crystal Palace of the 1851 Great Exhibition was the world's first all-glass construction and truly dazzled all those who came to see it; it was also the site of the world's very first flushing public toilet, which impressed the crowds almost as much as the building itself. Today Crystal Palace Park is a calm and relaxing place to spend an afternoon, with plenty of ways to keep the kids occupied as well.
While Crystal Palace Park is home to many engaging water features including a large, placid lake and several water fountains designed by Isambard Kingdom Brunel, the park's most unique attractions are the 33 dinosaurs scattered throughout it. While this may sound like a modern gimmick, these enormous beasts have in fact been in place since 1854 - they were sculpted by a Victorian artist, and can be seen dotted across three of the park's islands. There's nothing quite as fascinating as these life-size models for young children, and they make the park entirely unique.
Crystal Palace Park also features several other attractions including a maze and a concert bowl. For much of its history the park was also a popular racing site, and pre-war motorcyclists used to race the "Crystal Park circuit" regularly. Recently there has been a move to reintroduce racing to the park, and classic cars can sometimes be seen tearing around the park circuit.
Crystal Palace Park sits about 10km south of the city centre, and is one of the major parks for south London residents. Visitors from nearby Beckenham, Forest Hill and West Norwood can easily reach the park on public transport, while those from further afield can reach the park by Tube from Penge West, Gipsy Hill or Crystal Palace itself. There are few parks in the UK like Crystal Palace Park, and the combination of fantastic attractions and a cool, shady space to walk makes it a sure winner with Londoners of all ages.
Richmond Park
Richmond Park is London's largest Royal Park, and covers an astonishing 856 hectares (around 2,100 acres), making it the second largest park in London overall after the 10,000-acre Lee Valley Park in North London. Richmond Park is one of the biggest and most beautiful open spaces in London, and gives city dwellers the opportunity to roam at will across the green grass or to follow one of the many trails across the park.
Richmond Park is very popular as a cycling destination, and many London cycle clubs train here. It's easy to see why; the setting is idyllic, with red and fallow deer herds dotting the rolling hills and swathes of woodland covering the edges of the park. Richmond Park has several impressive features, too, including the Isabella Plantation; this exquisite 40-acre garden consists of some of the most diverse flora and fauna to be found in the UK, and visitors stroll between banks of extremely photogenic azaleas - make sure to take your camera when you go. Visitors to "King Henry's Mound" are treated to exceptional views across the Thames Valley in the west, and can even catch a glimpse of St. Paul's Cathedral to the east.
Richmond Park is a fantastic "destination" park, and has several entrances open to vehicles throughout the day. Local residents can easily gain entry to the park through the many footpaths and cycleways, though public transport won't get you to the park itself; the nearest Tube stops are in Richmond and Barnes, although it is possible to catch a bus to the park's edge.
Victoria Park
Known as "the People's Park", Victoria Park is London's oldest public space and has welcomed Londoners for more than 170 years. It's also one of London's most important spaces and is responsible for revolutionising the way the lower classes lived their lives; until Victoria Park was created, few poor Londoners would ever see such a large expanse of green, nor would they have the chance to swim recreationally as they could in the Bathing Lake. Victoria Park has also played a crucial role in London's political character as a meeting-place for many leftwing speakers - crowds from Tower Hamlets and Hackney would congregate to listen to socialist speakers such as William Morris and Annie Besant.
Today, Victoria Park is a central part of the local community, and every summer evening cricket is played on the three all-weather wickets. The park is also home to Tower Hamlets F.C. and the world's oldest model boating club, who use the park's lake to test and race all manner of miniature craft. Victoria Park has undergone recent renovations to restore some of its historic charm, which has seen the enlargement of the lake, the addition of a Chinese pagoda and the construction of a new bridge (this was to be built when the park was opened, but was never constructed. The original plans were unearthed and the bridge built in 2013, according to the original 1850s specifications).
Victoria Park truly is a park for the people, and while it may not have the rolling grandeur of Richmond Park or the unique attractions of Crystal Palace Park it provides what local residents need the most; a public space for recreation and leisure, with beautiful surroundings. Victoria Park has won the Green Flag and Green Heritage awards for five years in a row, unprecedented amongst any other UK parks, highlighting the service it provides to the local community.
Reaching Victoria Park is straightforward, with Homerton and Cambridge Heath Tube stations only a ten-minute walk away, and the park is situated not far from newly-regenerated Stratford.
Hampstead Heath
Situated just to the northwest of the very centre of London, Hampstead Heath provides commanding views over the entire city. From Parliament Hill it's possible to pick out such London landmarks as the Eye, St. Paul's Cathedral and the BT Tower, and this view has even been protected under an Act of Parliament. There's much more to Hampstead Heath than this view, however, and the rambling, heavily wooded park provides a perfect outing for any family. Hampstead Heath is one of London's larger parks at 790 acres, but still manages to feel compact, with many different areas tucked away within the leafy hollows of the park's landscape.
Many athletes train on "the heath", as it is locally known, and the park is regarded as the home of UK's cross-country runners. Included in the park's facilities are an athletics track and several swimming lakes which are open year-round, which provide ample opportunity for exercise in any condition. Children will be glad to know that the park holds eight different play areas, including a large purpose-built adventure playground full of slides, swings, and all manner of apparatus to clamber on and around. As if this all wasn't enough Hampstead Heath even features its own zoo, which is home to ring-tailed lemurs, coati, wigeons and many other rare and exotic species.
With nearby Finchley, Hendon and Camden Town being fairly dense urban areas, Hampstead Heath provides a much-needed open area for the community to run, exercise and play in. The access to green space and the facilities within the park make it one of the finest areas in London to get out and enjoy a nice day, or to tire out the kids during the summer holidays. Getting to Hampstead Heath is straightforward, with a Tube stop located right on the southern tip of the park. No other tube stations service the park, though, so visitors should either catch a bus or drive if they live too far away to walk.
Finding a Park in London
While we've covered some of the nicest parks in London, there are still hundreds of green spaces tucked away in every borough of the city. From Battersea Park to Clapham Common, St. James's Park to Kyoto Garden, Finsbury Park, Springfield Park and the Lee Valley, there are many, many different parks in London which provide all the fresh air and space that you could possibly need. Whether you're after somewhere to train for a marathon or somewhere to fly a kite, space to do yoga on a sunny day or simply a quiet place to read a book, London's many parks have everything you could possibly want and more.
Where to Eat in London
London offers some of the finest cuisine in the whole of the UK, which isn't surprising when you consider the massive cultural diversity within the city. When people from all over the globe come together you get an amazing crossover between different culinary styles, and London has a well-deserved reputation as a foodie's paradise. There's fine dining on offer for everyone within London, including several world-famous establishments.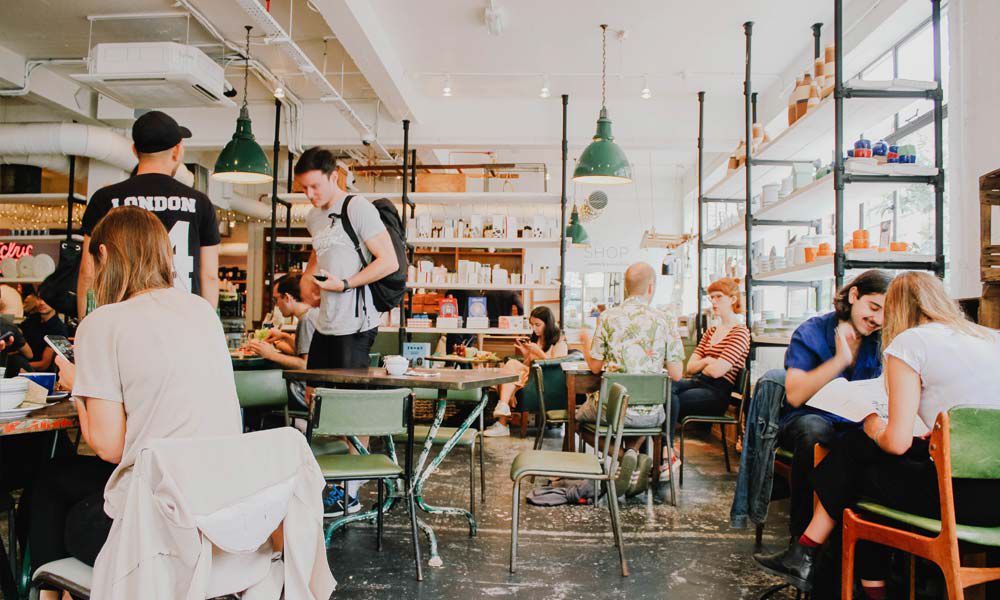 Let's take in a few of the finest establishments open to Londoners all across the city, from upmarket Fitzrovia to the refined boroughs of Chelsea & Kensington. People come from all over the world to dine at these institutions, and no fan of fine dining should go without trying the food at these unparalleled eateries.
Pied a Terre, Fitzrovia - Fine dining in the heart of the city
Fitzrovia is known as a haven for literary types, and for many years has been a secluded oasis of cultured cool, home to many of London's elite. This reputation for the highest standards extend to its eateries, and Pied a Terre is no different - this establishment offers the very finest foods to diners, from a £400 tasting menu to a quick and easy £29.50 lunch menu.
Pied a Terre gives diners the opportunity to experience fine dining right within the historic heart of London, and though the menu here isn't exactly the cheapest around it's also fairly reasonable for what you get. The finest wines are available by the bottle or the glass, and the restaurant caters for vegetarians and vegans exceptionally well.
Restaurant Gordon Ramsay, Chelsea - 3 Michelin Stars, London's elite eatery
There are no kitchen nightmares here; London's top-rated restaurant boasts the very creme-de-la-creme of haute cuisine, and diners can expect to receive the very best food money can buy. For special occasions and exceptional dining in the heart of the city, you can't do much better than visiting the famed TV chef's home turf.
Of course a 3-star establishment will cost a fair bit, so diners should go prepared for a top-price meal. In addition, tables are hotly contested (the restaurant only seats 44), so bookings should be made well in advance to avoid disappointment.
Dinner by Heston, Kensington - A trip through British culinary history
We're moving from one TV chef to another, but Heston's famously individual way of approaching culinary excellence sets this restaurant apart from the rest of the crowd. The entire menu is comprised of dishes from throughout British history, which allows diners to choose from "Frumenty" (1390), "Spiced Pigeon" (1780) and "Tipsy Cake" (1810), amongst many other culinary delights.
While the individual nature of the menu could come off as gimmicky if not properly executed, the twin Michelin stars at this restaurant show that there is more than enough quality to back up the food on offer - satisfied diners can enjoy a huge range of unique foodstuffs in this central London location. Dinner by Heston provides an out-of-the-ordinary experience for diners who are accustomed to finding the same food on the menu from place to place.
Roux, Westminster - London's gastronomic barometer
Known as one of the finest places to eat in London, Roux's on Parliament Square boasts a menu fit for a king; Dorset Crab, Dry Aged Duck and Shetland Cod all grace the a la carte selection, with plenty of vegetarian options available. Despite the restaurant's exceptional quality 3 courses can be had for £59, making it a reasonably-priced choice for special occasions.
Visitors to Roux are treated to a fine dining experience beyond compare, and can expect to receive food ranking amongst the best in the city. While Gordon Ramsay's restaurant may hold one more star than Michel Roux Jr's, the two chefs both still provide fantastic gastronomic experiences for diners of all types.
Picture, Fitzrovia - Vegetarian and vegan-friendly fine dining
Many restaurants concentrate on offering the finest meat dishes, but their vegetarian options are added as an afterthought. All too often vegetarians find that there is a single choice, and if they don't like it, tough - there isn't an alternative. However, Picture provides an entire vegetarian menu (much of which is also vegan), giving those who don't eat meat a fully rounded dining experience.
Visitors to Picture can expect to spend about £50 on a three-course a la carte meal, though the restaurant does also provide cheaper set menus - for their 4th birthday, Picture create a "4 for £40" menu that shows off the best dishes they've offered over the years.
Clos Maggiore, Covent Garden - Contemporary French cuisine in the heart of the city
The French are well-known as a highly gastronomic culture, and Clos Maggiore in Covent Garden brings a slice of Parisian excellence to London's culinary scene. While the menu may have a distinctly meat-eating orientation (chicken breasts stuffed with snails, for instance, and oven-roasted turbot), Clos Maggiore also provides several vegetarian options.
Featured on several blogs as one of the world's most romantic restaurants and boasting an enormous wine cellar of 2,500 different vintages, Clos Maggiore is the place to go for special occasions and the highest quality eating.
Gastronhome, Clapham - Traditional French cuisine with a modern twist
Journeying south of the Thames brings us to another slice of French excellence, this time in the form of Lavender Hill's Gastronhome. The menu here is simple but excellently-curated, with dishes such as "Le St. Pierre" and "Le Tourteau" providing diners with food that is both interesting and absolutely delicious.
Having received a TripAdvisor Certificate of Excellence in 2017 and a Diner's Choice Award, Gastronhome lives up to its name as a place for London's foodies to sample the finest dishes to be found anywhere in the city.
Eating Out in London
We've picked some of our favourite spots to find excellent food in London, and while these restaurants aren't necessarily places to drop in for a casual lunch they highlight the culinary excellence which can be found throughout the city. London is home to some of the world's most skilled chefs, and no matter what your tastes there's always somewhere new to try - from the cultured calm of Roux to the contemporary touches of Dinner by Heston, London has enough to keep even the most determined gastronome occupied for a long, long time.
Where to find cheap property in London
London's properties are set apart from the rest of the UK by the premium prices they command - a home in London is generally worth much, much more than it would be in other parts of the country, simply because there's so much demand for London real estate. However, as with so many aspects of London, one rule does not fit the whole city; different boroughs and even neighbourhoods can have widely varying house values, and knowing where to look can often net you a bargain.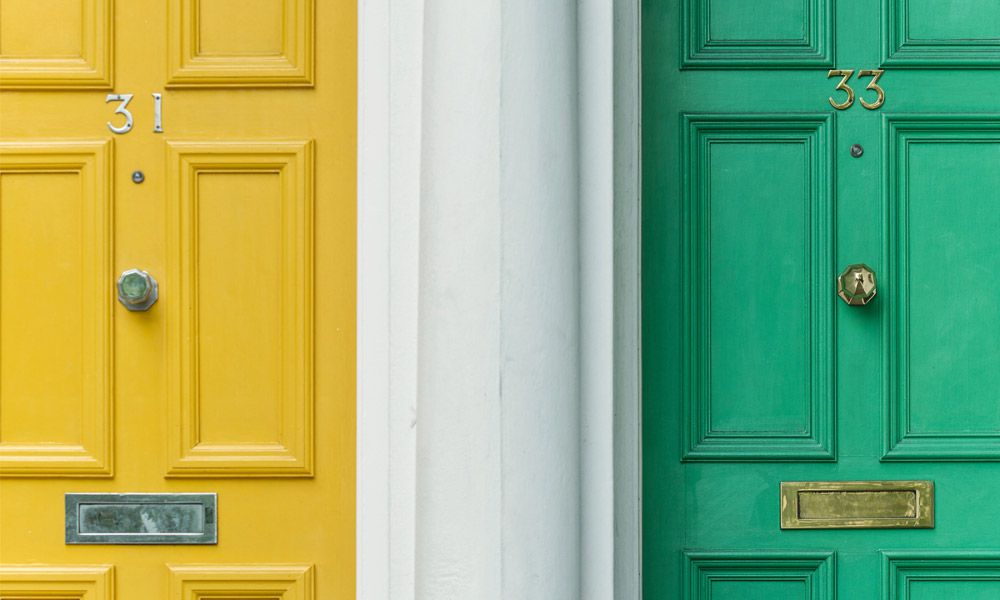 While it's true that much London property is very expensive, the London real estate market has also proven to be highly buoyant, even during the recent uncertain times where house prices have been expected to wobble. Investment in London real estate is generally seen as a safe and reliable way to generate income, which is why so many foreign businessmen invest in London real estate; it's often easier to generate a return by buying a posh Knightsbridge flat than by investing in the stock market. Ironically, the high-end property which is so popular with foreign billionaires has actually failed to match the rest of London's real estate growth, thanks in part to uncertainty over the UK's future global relationships.
However, few London property buyers will have access to the kind of money that overseas oligarchs do, so instead we're going to highlight some of the ways buyers can seize that first handhold on the London real estate ladder. We'll point out some of the cheapest areas to invest in, and which properties within those areas are affordable for those on a budget.
This guide is also a great resource for those considering Buy-to-Let investment, as a cheap property in a desirable area is a great bet as a source of rental income. A quick glance at the change in property prices in these areas should highlight just what a great investment these houses can be; making 30% in 3 years on a house in Bexleyheath is much, much better than any returns available elsewhere, even when you factor in inflation and running costs.
Barking and Dagenham, East London
Average House Price: £302,035
Previous Year Price Change: + 14%
Previous 3 Years Price Change:+ 40%
Barking and Dagenham are very well-situated London boroughs, sitting just a half-hour drive away from the City of London itself. This makes the area a perfect choice for commuters who'll need to make the daily trip into the city, but who want to avoid the crowded public transport which is all-too-often an immutable fact of London life. That said, the Tube station in Dagenham runs directly into the city centre with just a 45-minute journey time; less than an hour's trip is a joy for most City commuters, who often have to put up with 2-hour treks from the outskirts.
This area is also one of the best-equipped London boroughs on offer: the Thames itself sits just below Barking, and the area features a multitude of parks (including the Beam Valley Country Park). In addition to this, the Queen's Hospital sits just around the corner, providing peace of mind in case of an emergency.
According to Rightmove, most of the properties sold in Barking & Dagenham last year were terraced houses, selling for an average of £323,887. Flats, however, sold for an average of £204,606, with semi-detached homes fetching around £364,621 each. A flat in Dagenham or Barking, therefore, is a really great way for investors to pick up a piece of the London property pie without overstretching their budget - £200,000 is a fair chunk of money to invest, but can be bought with a 5% deposit of just £10,000.
Barking & Dagenham is much cheaper than any of the surrounding areas, with properties in nearby Havering and Newham costing a hefty 20% more (and Tower Hamlets costing a whopping 60% more). The cheapest part of this area appears to be Castle Green, situated to the south, with Upney on the west being the most expensive.
Bexleyheath, South London
Average House Price: £348,609
Previous Year Price Change: + 9%
Previous 3 Years Price Change:+ 30%
Just over the Thames in South London sits the borough of Bexleyheath, nestled just within the eastern perimeter of the M25. Centred around Bexley itself, this area presents a small-town atmosphere whilst also retaining excellent links into the City itself. While the rail links to the heart of London are not quite as convenient, as it's a little trickier to cross over the river, the road links from Bexley into the City of London are excellent, and commuters and visitors can look forward to a short 35-minute drive in.
Beyond working in the city, though, there's little need to travel into the centre - Bexley hosts almost everything you could possibly want in a town, and has all the retail, eating and entertainment establishments you could ever need. In addition to this, Bexley is well-placed for access to the M25, freeing travellers from the tangled web of B-roads and intersections that characterises any attempt to leave London - drivers simply reach the motorway and hit cruise control. Brighton is only just over an hour away, which provides a handy getaway on sunny weekends (having the M25 on your doorstep saves about half an hour of driving in this case, so it's clear how useful this can be).
Rightmove tells us that most properties sold here in the past year were semi-detached, and sold at an average price of £414,346 - a fairly high price, compared with some other areas. Terraced homes went for an average of £340,348, and flats for around £224,904, so compared to Barking & Dagenham property in Bexleyheath is around 10% more expensive. However, properties in the nearby districts of Greenwich, Bromley and Lewisham cost on average £100,000 more, so Bexleyheath real estate can be a real bargain. Choosing the right area, as always, is essential - properties in Slade Green, near Dartford, are the most affordable, whilst those in Bexley itself are the most expensive.
West Ham, East London
Average House Price: £299,425
Previous Year Price Change: - 14%
Previous 3 Year Price Change: + 9%
West Ham (so-called because it was formed from the western section of the old English borough of Ham) is situated on the very cusp of the centre of London, sitting just a half-hour Tube journey away from the City of London itself. While this short commute in may make it a top spot for City workers, it also provides unbeatable local amenities and plenty of green spaces - there's no shortage of open air in West Ham, in contrast to many of London's closer-in boroughs.
While West Ham is a fairly cheap location at the moment, it stands poised to grow quickly in the future - this makes it an ideal investment opportunity for those wishing to get in on the ground floor of a property boom as cheaply as possible. A good indicator of this is nearby Plaistow, where property prices have risen a startling 74% over 5 years. Properties there are now worth significantly more than those in West Ham, but there's no reason not to believe that this demand for cheap real estate will spread northwards into West Ham itself.
Although property prices in West Ham have declined over the past year, house prices are still relatively resilient and have increased by 9% in the past 3 years. As one of the few London boroughs where prices have actually fallen, West Ham provides an easy way for buyers to make a purchase while prices are low. West Ham is also very, very close to the Stratford Westfield shopping centre, which provides all the facilities and amenities a family could need on the weekend, and makes living in this area extremely convenient.
The statistics for West Ham don't tell us which properties are most popular, but we can ascertain what the average house price was in this area, at just under £300,000. Individual flats appear to sell for around £230,000, which compares favourably with nearby up-and-coming areas such as Stratford Village and Old Town, where a comparable property would cost around £260-280,000. Properties along Manor Road appear to be amongst the cheapest in this area, while those on the southern edge of West Ham, edging on Plaistow, seem to cost more.
Belvedere, South East London
Average House Price: £283,045
Previous Year Price Change: + 15%
Previous 3 Years Price Change: + 41%
Once again we're visiting south of the Thames to show off some of the cheapest property in London. While many of the main city landmarks can be seen on the other side of the river, there is much to recommend living further out from the city centre; property is much more affordable here, and the new Crossrail system has made it much easier to make the trip into the nation's first city.
Belvedere is placed just to the north of Bexleyheath, which we previously discussed, where house prices are reliably rising year upon year. Belvedere still retains many of the benefits that come with owning property a little further out from the centre of London, though it's becoming ever more competitive as new buyers enter the market. Space isn't at such a premium in this area, so it's easier to find property that's a little larger than in the crowded inner boroughs, and handy access to the M25 allows homeowners to easily get out into Kent and the surrounding areas.
Thanks to the new Crossrail links, residents of Belvedere now have a much easier time of making their way into the centre of London. This new access has opened up property in this area to commuters in much the same way as it has for nearby Abbey Wood, which has seen house prices skyrocket in the last 12 months as buyers clamour for real estate in the area. With a Tube stop of its own, Belvedere residents can now make it into the city in just half an hour, an enormous incentive for commuters to invest in Belvedere property.
Houses in Belvedere sold for an average of £283,045 last year, which compares favourably with the £330,477 of nearby Abbey Wood, a location which topped many of last year's "cheapest property in London" lists. Flats in the area sell for around £225,000, and most of the sales in this area are of leasehold apartments: terraced homes sell for £307,275 and semi-detached homes for £338,130. Property in this area is generally cheaper towards the south, while homes surrounding the new Tube station are a little costlier.
Choosing a cheap London home
There's a lot to be said for investing in a London home; the city offers more than anywhere else in the UK does, and there isn't anywhere quite like it. For many people, living in London is a necessity more than a choice, so finding somewhere cheap to live is a top priority rather than an investment opportunity - don't feel like this means you'll have to live somewhere shabby and run-down, though. While any neighbourhoods has its good and bad spots, with a little careful digging it's possible to uncover hidden gems in any part of the city.
Before making the decision to purchase property in a particular part of London it's vital that buyers carefully consider what their needs are; will they prize a quick, reliable route into the city centre, or will they only occasionally need to journey in? Likewise, some areas offer an easy route out of London, or great links to the airports, while other up-and-coming districts might present a fantastic investment opportunity. Before coming to a decision about where to invest, buyers must carefully consider what they want from the property, then seek out a home that fulfills this requirement. Whatever a buyer wants to find from a London home, it's sure to be out there; as long as you know where to look, you'll be sure to find what you're after.
Council Tax in London
Council tax is a fee paid by every household to the local council, and contributes to the vital services we all use every day, such as emergency services, libraries, leisure facilities, rubbish collection and council inspections. These services are all funded in part by the Government, but local authorities must make up the difference by charging each household an annual fee.
Council tax varies from area to area, and each council will set tax rates differently. Croydon and Lambeth share a boundary, for example, and while they sit right next to each other they're still subject to different council tax rates. The amount households are charged varies between the two boroughs, even between properties that are only a road apart. Because council tax can vary so much across London, we won't provide an exhaustive list of all 33 council tax rates (the full rates can be found here). Instead, we'll break down how council tax is calculated, and what homeowners should look out for when moving into a new area.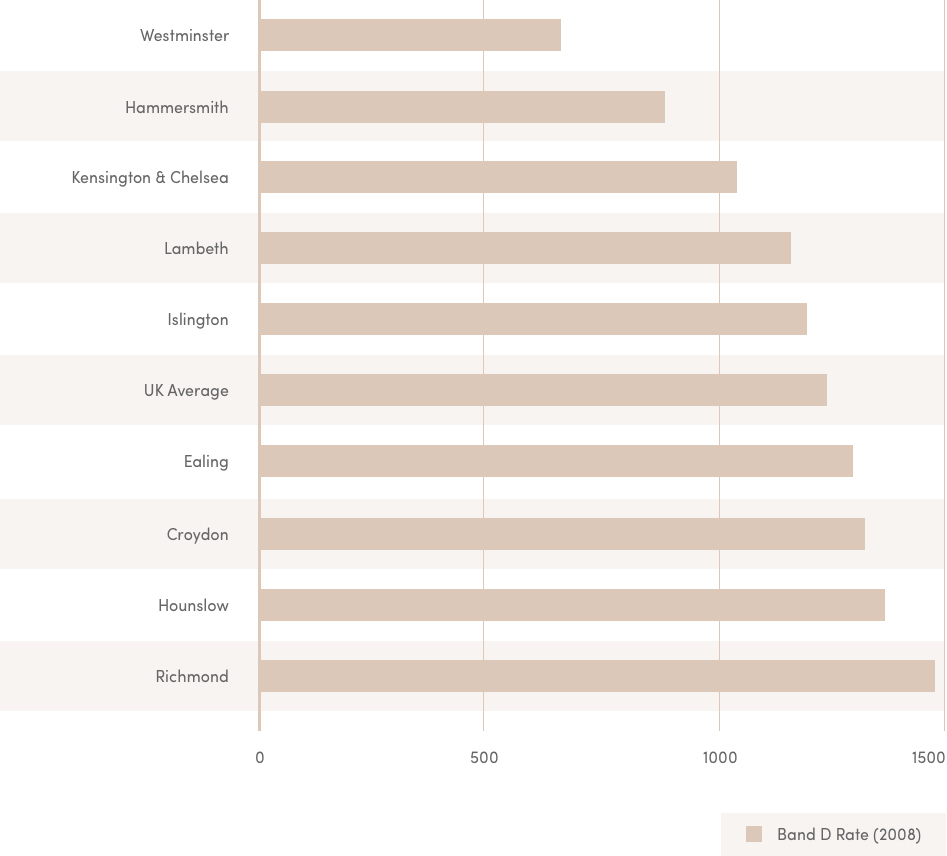 How is Council Tax calculated?
As with many of the local authority charges levied on UK residents, the means and methods for calculating council tax can be somewhat hard to decipher. Although the value of a property plays a role in determining how expensive the council tax will be for a property, a much more important factor is the overall rate at which the local council has set their council tax levels.
A local council will make a decision each year as to how much to charge residents; for example, let's say they're asking for £1,000. This £1,000 will be used as the baseline, and is charged to households which fall into "Band D", the middle tax band. The band into which a property falls is determined by its value on the 1st of April 1991 (they tried to re-value properties more recently but the housing boom and crash caused major issues with the banding system). Houses which are worth more will fall into the higher bands E, F, G and H, and will pay a proportionately larger fee, while properties worth less will fall into bands A, B and C. A property in Band H will pay twice what a property in band D pays, while properties in bands E, F and G pay increasingly larger rates as their value increases. Band H is the highest band, and covers any property worth £320,001 or more (in 1991). Bear in mind that there is no upper limit to this, so a home that was worth £4 million won't pay any more council tax than one worth £400,000.
The important takeaway for anyone looking to buy property in London is that the amount which a council sets their "average council tax" at (i.e. the charge for a Band D property) plays a much more important factor in resident's council tax fees than a property's value does. For example, a council which charges £1,000 for a Band D property will require a payment of £2,000 from houses which sit in Band H. However, a council that charges £1,250 for a Band D property will charge £2,087 to a less valuable property in Band G.
This is especially important when purchasing property in London, because local councils can set their Band D rates at widely varying rates. The following chart highlights the differences between some of the Band D rates in London:
As you can see, there is a huge difference between the rates that Westminster Council charges their residents (£681) and what Richmond residents pay (£1,490). This means that someone who owns a multi-million pound home in Westminster would pay £1,362 per year, about the same as someone who owns a Band D home in Croydon (which would be worth about £300,000 in today's money). Buyers should therefore think very carefully about where they buy when taking council tax into account, rather than what they buy.
Valuations and Council Tax Bands
As we've mentioned, council tax bands are calculated from a property's 1991 value, which can make it confusing when shopping around for property in 2017. Here's a guide to the council tax boundaries, along with a rough estimate of their corresponding 2017 value:
| | Band A | Band B | Band C | Band D | Band E | Band F | Band G | Band H |
| --- | --- | --- | --- | --- | --- | --- | --- | --- |
| 1991 Value | Up to £40,000 | £40,001 to £52,000 | £52,001 to £68,000 | £68,001 to £88,000 | £88,001 to £120,000 | £120,001 to £160,000 | £160,001 to £320,000 | More than £320,001 |
| Estimated 2017 Value | Up to £155,000 | £155,000 to £200,000 | £200,000 to £260,000 | £260,000 to £338,000 | £338,000 to £461,000 | £461,000 to £615,000 | £615,000 to £1.2M | More than £1.2M |
The best (and worst) areas in London for council tax
While it would be fruitless to try and cover each and every London borough in great depth, we can shed a little light onto how London council tax works by examining some popular areas around London. By looking at how much they charge, it's possible for buyers to get a feel for how much they can expect to spend in different areas of the city, which is invaluable when searching for a new home in London. Factoring council tax into the essential budgeting process is vital for anyone considering purchasing London property, as it contributes a significant amount to the monthly running costs of a household.
Kingston-upon-Thames, West London
Band D Rate: £1,682
Band A: £1,121
Band H: £3,365
Variation: £2,240
This leafy borough situated on the western edge of London offers a glimpse into London's ancient history - the name Kingston is derived from its heritage as the crowning-place of English kings in Saxon times. This quiet yet well-equipped town sees properties selling for around £600,000 on average, as its desirable position within easy commuting distance of the City makes it sought-after by professional couples and their families.
Visitors to Kingston should make certain to see the Clattern and Kingston bridges, both of which have remained standing since the 13th century - there's a lot more to see and do in Kingston though, and those with less interest in history are spoiled for choice in shopping, eating and leisure facilities. This little town offers a vision into England's unspoilt heritage, and provides residents with easy access to the surrounding countryside as well.
Kensington & Chelsea, Central London
Band D Rate: £1,042
Band A: £695
Band H: £2,084
Variation: £1,391
There are few location in London more sought after than these coveted addresses; an SW1 postcode is a status symbol all of its own amongst London's elite, and many buyers seek out property in this highly distinguished district. Situated right next to the seat of Government, diplomatic limousines and high-ranking politicians are a common sight in this neighbourhood, and its reputation as a home for the very cream of London society is well-deserved.
Access to London's beating heart doesn't get much better than this, with all the top landmarks within easy walking distance (or an even easier Uber ride) - the V&A, Hyde Park, Harrods, the Royal Albert Hall and Kensington Palace are all next door. This convenience comes at a price, of course, and houses in Kensington and Chelsea typically go for around £4 million. With prices this high the council can afford to set their Band D rate fairly low, because almost all properties will fall into the highest payment band - those that don't are protected from a council tax charge inflated by the high value of the property around them.
City of London, Central London
Band D Rate: £931
Band A: £620
Band H: £1,862
Variation: £1,242
Known around the world as a global financial powerhouse, the City of London is home to some of the UK's top stockbrokers, traders and financiers, all of whom prize the ease with which they can get into the office each morning. With financial markets always favouring the early bird it's vital for these top financial experts not to spend hours each day travelling in from the surrounding area; they can be at their desk making deals before the rest of the office steps off their crowded commuter trains.
House prices in this area are unsurprisingly high - a 3-bedroom flat goes for between £4-5 million, whilst a 4-bedroom penthouse commands a staggering £13.5 million (enough to buy a mansion elsewhere in the UK). However with house prices this high the local council is able to keep council taxes at a rock-bottom rate, so even while almost every homeowner will fit into Band G for tax payments, these payments compare favourably to those in other London boroughs.
Harrow, West London
Band D Rate: £1,559
Band A: £1,039
Band H: £3,119
Variation: £2,080
Harrow is home to a wide variety of listed buildings, and is one of the most diverse towns in the London area, with a huge array of architectural styles dating back as far as the 1600s. Property in Harrow is sought-after amongst those seeking an escape from the close-in crowding of inner London, who wish to have more space, more air, and better access to the countryside. With the Colne Valley Regional Park lying just a short drive to the west of Harrow, there is plenty of opportunity for residents to get out and about on sunny weekends.
In addition to the unique architecture and heritage of Harrow, it is also home to the "Usurp" artist-led gallery, a flagship project for Arts Council England, and West Harrow has a reputation as a bohemian neighbourhood. Properties in this part of London sell for around £500,000, though the local Harrow council has set council tax rates amongst the highest in the UK - the owner of one of these properties can expect to spend more on council tax than the owner of a Tower Hamlets penthouse.
Exemptions, Additional Charges and Reductions in Council Tax
Not all residents have to pay council tax at the same rate, and there are several variations on the standard rate which is applicable throughout each borough. Understanding which rates apply in each circumstance is important because this can have a significant impact on the total cost of council tax - homeowners could end up paying more than they budget for, or missing out on a discount.
While this list is not exhaustive, it does point out some of the most common alterations to the basic council tax calculation. Residents and prospective buyers should consult with their local council before drawing up a budget, however, to ensure that they are correctly calculating their overall council tax cost.
Single Occupancy Discount:
If you're living on your own, a council tax bill is a significant cost to meet. While properties that accommodate a single person are generally cheaper than those with multiple tenants (and thus fall into a cheaper band), the inability to split the costs with other housemates makes it much more expensive. Therefore, those who will be inhabiting the property alone are entitled to claim a 25% discount on their tax bills. The council must be made aware as quickly as possible of the homeowner's situation in order to avoid higher charges being levied, so if you're planning on purchasing a flat just for yourself, let the council know immediately.
Empty Properties:
Some councils offer a discounted council tax rate for property which is left empty. This is discretionary, and it's not always clear whether a council will offer a discount in these cases; councils are left to choose on a case-by-case basis whether to discount an empty property's council tax, so buyers should contact the council directly with their enquiries. This can be vital for travelling business people who may be away for long stretches at a time as savings on council tax can be substantial.
Second Homes:
Local councils are given a remarkable amount of freedom when it comes to charging council tax, and they will all treat second homes differently. Some offer a discounted rate to those who own a second property, while others will charge them more; buyers will need to contact their local council in advance in order to ascertain what the authority's stance is.
Council Tax in London
While council tax is undoubtedly a significant cost for any homeowner, it's also one which varies widely from area to area. By carefully considering the borough in which they choose to live, buyers of property in London can select an area which minimises their council tax bills without having to compromise on the property they purchase.
Avoiding crime in London
Finding a place to live is as much about the surrounding area as it is about the home you buy. It's no good owning the perfect house if it's in completely the wrong neighbourhood, so before investing any money it's important for buyers of London property to check out the area where they'll be living. One of the most important statistics to be aware of is the crime rate in the neighbourhood, because the safety of yourself, your family and your possessions is a priority.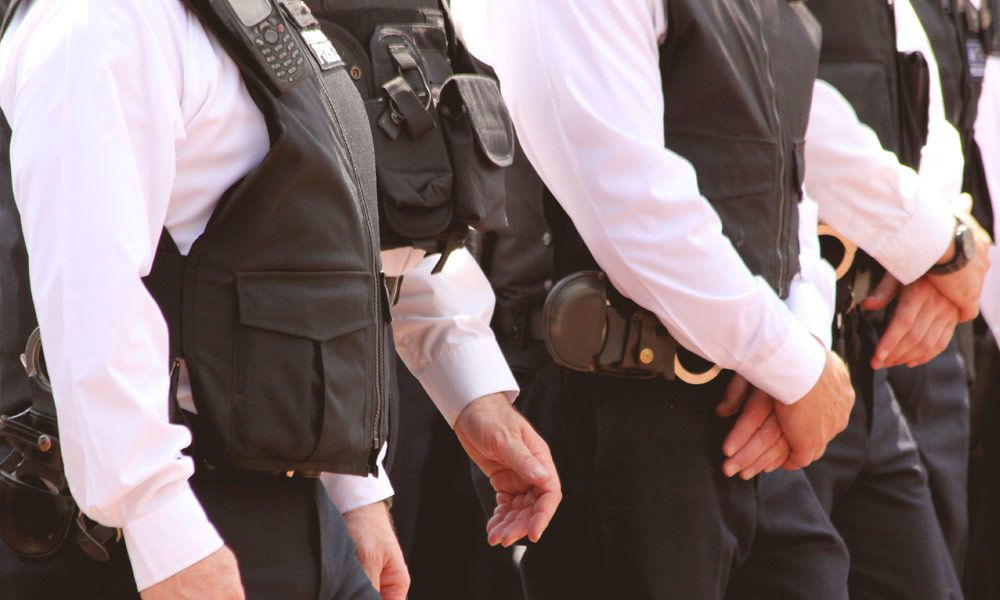 In the modern inter-connected age it's possible to tell a lot about an area by doing a little online digging. Detailed statistics are available for almost any area, which can shed light on what it'll be like to live in a particular area. The knowledge that you'll be moving to a safe environment provides essential peace of mind when purchasing a property, and can also help to save money, too. In this guide, we'll have a look at what prospective buyers can do to find out about their new neighbourhoods, and we'll take a look at some of the safest (and not so safe) parts of the UK's capital.
Gauging an area's safety
Information is readily available at a surprisingly high resolution for anyone with an internet connection. The UK Police provides detailed data on where and when crimes have taken place, what crime was committed, and what the outcome was. By assessing the different statistics of various areas it's possible to look a little deeper than just the raw crime rates, which can paint a misleading picture.
For instance, a suburban road might have the same incidence of crime as a central neighbourhood, but upon closer inspection it becomes evident that the suburban area's crimes are largely criminals breaking into cars parked on the street. In contrast, the more central borough's crimes may feature a higher percentage of violent crime and street robbery; most people would prefer their car to be robbed rather than themselves, so this distinction can help to highlight a preferable area to live in. Additionally, understanding the types of crime committed in an area helps to guard against them, as residents are forewarned of what they might have to deal with.
The best place to start is with the Police.uk Crime Map, an invaluable tool that allows you to break down the types of crime street-by-street, and check the status of police investigations. Simply drawing out the area in which you're considering buying a property allows you to view total crime rates, or to filter only a certain type of crime. This is valuable when comparing rates for a certain type of criminal activity - checking for violent and sexual crime, for instance, can be a very good idea, and this is a quick way of checking where are the safest (and the least safe) areas.
This map of the area around Hampstead Heath points out a "hotspot" for violent and sexual crime along Kilburn High Street - while in the wider scheme of things this may not represent a particularly high rate of crime, it's the sort of information that those with families will find very valuable. The areas to the west of Child's Hill have a noticeably lower incidence of this type of crime, so if you're looking for a London property in this area you ought to bear this in mind.
Where are the safest places to live in London?
Although the information is quite wide-ranging, it is possible to provide a "broad strokes" interpretation of where the safest parts of London are. Unsurprisingly, the boroughs which feature the least crime are the affluent London outposts of Harrow, Richmond, Kingston-upon-Thames, and so forth; these neighbourhoods are generally quiet suburban areas, where there is little violent crime (or indeed any crime). Petty theft and anti-social behaviour is still an unwelcome part of life, though, no matter where you live - even in Richmond, with a rate of 54 crimes per 1,000 people annually, burglary and vandalism still account for more than a third of all crimes. However, Richmond's 17 violent crimes per thousand is much lower than the London average of 32, as is the robbery rate of 2 (rather than 9) and vehicle theft of 7 (rather than 14).
As we can see from these statistics, the safest neighbourhoods in the UK don't only have less criminal activity, but they have much less serious violent crime. Although the chances of having your bike stolen or car vandalised aren't much lower than in higher-risk areas, you're far less likely to have your car stolen, be attacked or robbed in the street. Clearly, though, there are some areas which are much more dangerous, which are pushing up the average crime rates for London as a whole.
Where are the least safe places in London?
While crime rates in the UK's capital are lower than they have been historically, they are still higher than in most other places in the UK. The sheer number of people in London means that there's inevitably a seedy undercurrent of criminality in the city, and in some boroughs this results in a surprisingly high rate of crime. There are a few general rules of thumb that can be established, which help to inform anyone looking for the right area to settle down; first of all, don't believe for a second that the most expensive parts of London are the safest. Criminals are drawn to areas with a lot of wealthy people who aren't quite as careful with their phones and wallets as they ought to be, and neighbourhoods like Kensington and Tower Hamlets clock in with about 1,000 crimes per km2 every year (or to put it another way, one crime is committed every year on every square meter of these boroughs).
The most dangerous area of London, according to many statistics, is Westminster - not because of any backstreet Whitehall shenanigans, but simply because there are so many people in such a small area. With hundreds of thousands of tourists all thronging to the centre of Government every summer, it's hardly surprising that innumerable thefts take place, and that many crimes of opportunity occur here. However, this "most dangerous borough in London" title should be taken with a grain of salt; while pickpocketing and general theft is rife here, this area has a lower incidence of violent crime than many other parts of London. While it's true that the rate of crime in Westminster is high, this is simply because there are a lot of people, many of whom make tempting targets for thieves.
Just over the Thames, in Brixton and Clapham, the rate of violent crime becomes much higher. These popular venues for a night out suffer from a much higher rate of these serious crimes, which is much more worrying for anyone planning to live in this area. However, crime appears to be mostly concentrated around the popular bars, clubs and pubs in these areas, suggesting that much of the violent crime in this area is the result of rowdy drinkers getting out of hand - those who aren't planning on heading out into the town are less likely to suffer from these crimes.
The statistics we've covered here highlight how important it is to dig a little deeper when you're looking at living in an area, and the best possible source of information is from local residents. While the Metropolitan Police collects an enormous amount of data on crime levels in the city, it's difficult to judge purely from statistics what an area is like to live in. If you're thinking of buying a home in an area, try to meet some of your potential neighbours and find out what it's really like to live there; they may well give you an insight into the neighbourhood that you just can't get anywhere else.
Keeping Safe in London
Wherever you choose to live, there will always be a certain amount of crime in your neighbourhood. Even the cleanest, brightest, most friendly and welcoming neighbourhood is susceptible to criminals, who often target these neighbourhoods precisely because people let their guards down. It's vital that no matter where you live, you keep yourself and your family safe.
While there are plenty of police-sponsored safety awareness campaigns which highlight what you can do to stay safe on the streets of London, we thought we'd supply a little more information on what you can do to make your home a safe, comfortable space. An Englishman's home is his castle, they say, and a castle is little use without security - that's why it's important to put in place measures that help to keep your home safe and sound.
New Locks: As soon as you move into a new property, you need to change the locks. This isn't because you suspect the ex-owner will come back and rob you - you just don't know who has a key, or where it might have ended up. It could be that a neighbour has had a key for years, and has mislaid it; who knows who could end up with the keys to your home? You should fit a new set of locks once you're unpacked, and make sure that they're installed by a qualified locksmith (don't be tempted to do it yourself in order to save a few quid).
Double Glazing: Not only is double glazing an excellent insulator, it is also much tougher than ordinary glass. As it's double-layered and toughened, it's much harder for burglars to smash through without raising suspicions, and the locks of double-glazed windows are typically much more secure than the standard lever locks of normal windows. A set of double-glazed windows is a smart investment anyway, and will likely pay for itself over the years, but the security benefits should not be underestimated. If you don't want to refit your entire home, consider upgrading any obvious points of entry; rear ground-floor windows, for instance.
Lighting: Being able to see and be seen is often enough of a deterrent to would-be thieves that they'll think twice before making a move - an illuminated area won't just let you see them coming, but will give you a chance to see their face, meaning they're much more likely to be caught later. You won't have much control over the lighting on your street, but you can install a lamp on your front door to come on whenever you're near.
Smart Security Cameras: Nowadays, with "Internet of Things" connectivity becoming ever more widespread, it's possible for everyday home users to take advantage of smart technology solutions. So-called "smart cameras" allow users to hook a door camera up to their smartphone through their home's WiFi connection, which lets them see what's happening outside at any time. In addition, these cameras record activity automatically, meaning that if someone does come to your home you'll have them filmed, giving you a much better chance of identifying them.
Finding a safe and secure home in London
All major cities have their share of crime - it's just part and parcel of concentrating millions of people in a small area. London's crime rates are lower than most cities, and have been steadily dropping year on year, so as cities go it's a safe choice. However, as we've seen, there is significant variation between one area and the next in terms of the crime rates and the types of crime committed there. Before purchasing a house in London, it's vital that newcomers do their research on the area they're looking to live in.
In broad strokes, we can separate the different boroughs of London into 3 categories: firstly, there are the suburbs, which see much less violent crime than the rest of the city, but still more other types of crime than elsewhere in the country. Second, there are the tourist traps in Central London that see a huge spike in theft and petty crime, but generally do not attract much more serious crime. Then there are the nightlife hotspots that attract a fair share of violence, but which is mostly concentrated around high streets, and is unlikely to spill over into residential areas.